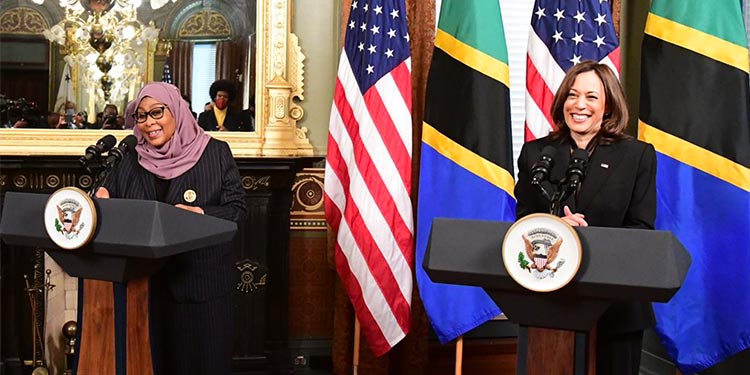 American investors now have more options to invest in Tanzania's profitable mining industry thanks to the visit of President Samia.
American investors will understand that Tanzania provides chances that are beneficial both in terms of business and in strengthening Tanzania-US relations.
American investors that enter Tanzania, which has one of Africa's fastest-growing economies, can profit from the wealth of advantages Tanzania's natural resources have to offer.
Tanzania offers a variety of investment opportunities in sectors including mining, natural gas production, and telecommunications.
Tanzania has attracted investors from many countries over the past year as it develops into a promising investment location. US-Tanzania ties are strong. Diplomatic ties between the two countries were established in 1961.
The meeting on April 15 between US Vice President Kamala Harris and Tanzanian President Samia Suluhu Hassan is another significant event that is expected to improve relations and, in particular, business prospects in Tanzania.
The Tanzanian government has altered the investment criteria many times in the last year. The government of President Suluhu Hassan believes that investing in Tanzania, which strategically positions Tanzania's investment potential, is the next best alternative that investors should look into.
Compared to 1.013 billion with 186 projects in 2020, Tanzania has received more than 237 projects bringing in USD 4.144 billion in FDI.
The topic of American investment in Tanzania is focused on Tanzania's economic development during President Suluhu Hassan's second visit to the US. Once more, the two leaders left their stamp on the conversation with significant investment plans that guided important trade activities.
To improve Tanzania-US ties on the economic front, President Suluhu Hassan has made a strategic decision to provide a warm welcome to American investors in Tanzania. In the latter, President Suluhu Hassan is praised for her investments in Tanzanian ideas that are now bearing fruit.
A key focus in enhancing a favourable investment climate has been creating a special zone for business and matching the spirit with financial institutions.
With the goal of boosting US investment in Tanzania, President Suluhu Hassan is closely collaborating with the Tanzania Business Council and Tanzania Private Sector Foundation (TPSF) to solve issues in the investment and business sectors. US financial involvement in Tanzania has increased. The US government reports that Tanzania received USD 1.5 billion in FDI in 2019, an increase of 5.2% from 2018. American investors are invited to investigate a variety of business opportunities in Tanzania, including those in agriculture, cattle, medicines, and mining, according to President Suluhu Hassan.
Tanzania-US ties have a positive impact on trade. According to data from the Office of the United States Trade Representative, Tanzania is presently one of the US' 121 major good trading partners, with USS 462 million in total (two-way) goods trade for 2019.
Tanzania's tourism industry has one of the biggest investment potentials. President Suluhu Hassan has invited American investors in an effort to "set the tone for developing the safe lending for investors," as specified in the country's investment act.
For US investors, the mining industry is profitable. Tanzania, which has been reforming the sector for the past five years, has found that investing in the mining industry is profitable for both investors and Tanzania as well. Gold mining is one of the great investment options in Tanzania that offers tremendous potential. The Bank of Tanzania estimates that exports of gold were USD 2.7 billion in 2021.
By removing barriers to investment, reducing smuggling, and constructing refineries and processing facilities in locations where American companies are welcome, President Suluhu Hassan hopes to improve the country's mining industry.
Given that the industry accounts for up to 30% of the country's GDP, US investment in Tanzanian agriculture is expected to be financially advantageous for American investors with sustainable commercial agricultural strategies.
US-Tanzania ties have existed for over six decades. To improve the country's economic growth, President Suluhu Hassan's government can only take advantage of this in a feasible and smart way. Tanzania has carefully positioned itself to become the next leading economy in East Africa, thus it is essential for Americans investing in the country to be prepared.