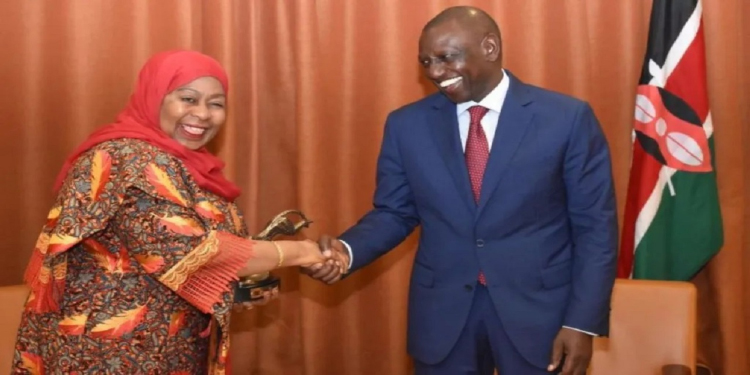 Africa, which is rich in natural resources such as gold, cobalt, copper, uranium, crude oil, natural gas etc, is starting to realize that it needs to end its reliance on the West for imports. Growing economies like Kenya, Ethiopia, Uganda and Tanzania understand that they need to use their untapped oil and gas reserves to become self-sufficient.
Tanzania Is Grabbing This God Sent Opportunity
Tanzania will soon become an important player in geopolitical affairs; the nation is on a path to become energy and oil sufficient which will facilitate in moving away from the dependence on West. Tanzania is grabbing the opportunities to become a nation which will produce and export oil and gas to the world. The East African nation has understood that if it has to compete in the world which is dominated by superpowers then it needs to have a thriving economy which can be achieved by using its rich resources.
Kenya's president William Ruto has confirmed that he is building a natural gas pipeline with Tanzania. The pipeline will stretch from Tanzanian city of Dar es Salaam to Kenya's city of Mombasa and its capital Nairobi. According to reports, the pipeline will be 600km and its cost is estimated at USD 1.1 billion. Ruto who visited Tanzania and held a meeting with President Samia Suluhu stated that the natural gas pipeline project will curb the tariffs in the industrial sector.
Tanzania Is Developing Its Three Ports as Energy Export Hub
The port of Dar es Salaam is the 4th biggest facility on the Indian Ocean coast of Africa and is responsible for most of the international maritime trade of Tanzania. The port is involved in doing trade with countries such as Democratic Republic of the Congo, Malawi, Zimbabwe and Rwanda. It provides access to Asia, Middle East, Australia and Europe.
Similarly, the Tanga port is on the north coast of Tanzania close to the border with Kenya. Tanga is the 2nd biggest port of Tanzania and the longest-serving facility in East Africa. The port is linked to Dar es Salaam via a 350km highway. It exports many goods like tea, cement, grains etc. The Zanzibar port is also an important port; it has the capacity to handle 165,000 tonnes of general cargo.
Considering the strategic positions of these ports, Tanzania can easily use them to supply the refined oil generated from the East Africa Crude Oil Pipeline Project with Uganda via the Indian Ocean to countries like India, Japan, Nepal, Myanmar etc. Similarly, through its Dar es Salaam, Zanzibar and Tanga ports, Tanzania can export its oil and gas to neighbouring countries such as DRC, Zimbabwe, and Ethiopia etc. The crude oil project with Uganda and gas pipeline project with Kenya will not only benefit Tanzania but also other African states that are forced to rely on Western imports due to poor infrastructure. Tanzania can become an energy export hub if everything goes according to the plan.