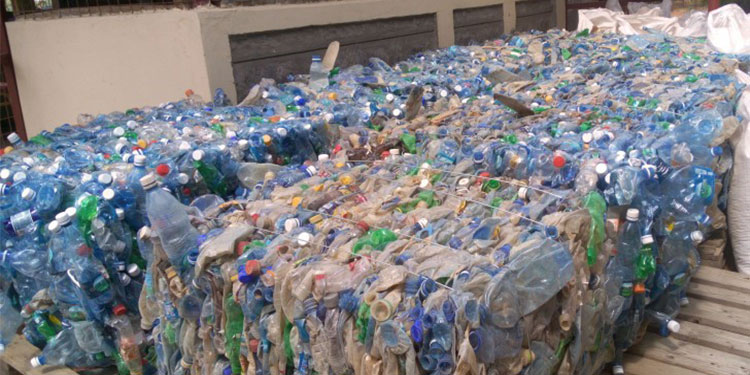 A new company by the name of Noma Green Plastic Ltd is now giving 30 tonnes of plastic material new use every month.
After that, they transform into poles, tiles, table beams, and other pieces of outdoor furniture, providing a small bit of assistance to the environment.
"We consider there are two ways we influence the fight against climate change. One is the environment, which we clean. We collect trash plastic from landfills. In addition, our products are excellent alternatives to wood. Simply enough, one of our plastic poles is one of the wooden poles. As a result, the more plastic poles we use, the more trees we have in our surroundings and the more we can do to prevent deforestation, "comments Noma Green Plastic limited founder Mugo Macharia.
According to Mugo, he founded the business to both clean up the extra plastic that was thrown in the environment and give it a more attractive use by making benches and tables out of it.
"Plastic is fascinating because it is malleable. We can transform it into so many various things, such as the table in front of me that is currently being constructed and the bench I'm sitting on, and we can collaborate with anyone who has any kind of plastic garbage. Your plastic garbage can be given to you in the form you desire after being collected by us. You want flower pots and signboards for your routes. We are only as creative as we can be with something that is malleable. Because more products made from (waste) plastic will help protect our environment from the threat of plastic, "Declares Macharia.
The business also produces 100 fence poles per day, which is a lot.
They are estimated to cost 900 Kenyan shillings ($7.60) on average and last for roughly 40 years. Customers are ready with circular, square, or rectangular poles of various lengths and different moulds.
Noma's attempts to address the catastrophe of global plastic waste, are praised by Erastus Ooko of Greenpeace Africa, but he claims they have only touched the surface.
"It is admirable what Noma Plastic is doing, and in my opinion, it is a necessary thing to deal with the plastic that is already present in the environment. However, the source of the plastic dilemma or concern must be addressed. We are promoting the global plastic treaty in order to be able to address this issue comprehensively from the outset since it is the only way we will be able to use the flow of plastics "Erastus Ooko, a Greenpeace Africa plastic project officer, says.
"Because they prevent these trees from being felled and used as poles, the Noma plastic poles give young trees a chance to develop. Additionally, as these trees mature, they absorb more carbon from the atmosphere, which significantly (considerably) aids in the fight against climate change "Ooko explains.