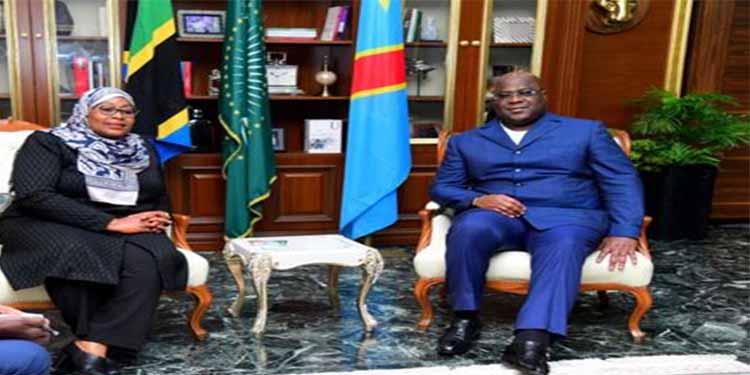 Felix Tshisekedi, president of the DRC, paid Tanzania his second visit and signed bilateral agreements for regional infrastructure projects to boost connectivity and ease of doing business.
During their meetings, DRC President Tshisekedi and Tanzanian President Samia Suluhu decided to revive a joint commission on bilateral cooperation in order to increase trade between the two countries.
The two Heads of State signed a memorandum of understanding to work together to advance the development of information and communications technology during President Tshisekedi's most recent trip to Tanzania (ICT).
When we say that the DRC and Tanzania signed a deal to promote information and communications technology, we mean that a contract was signed for significant regional infrastructure work to be carried out on miles upon miles between Tanzania in the East and the DRC in Central Africa.
Tanzania has agreed to use Lake Tanganyika to connect its National ICT Backbone Infrastructure (NICTBB) to the DRC. For the infrastructure work, miles of tunnels must be dug in order to install the necessary fibre optic cables for ICT.
Work on numerous complementary and supplementary projects will proliferate along the entire length of this tunnel, fostering the socioeconomic and trade growth of both nations and strengthening ties between the DRC and Tanzania.
Tanzania has welcomed President Tshisekedi of the DRC for his second state visit. Tanzania will use Lake Tanganyika to extend a fibre optic cable to the DRC. DRC Inga Dam will promote national development within and outside of EAC.
Prior Memoranda of Understanding included joint ventures for building road infrastructure through the central corridor to improve connectivity between the two nations.
Along with building roads, DRC-Tanzania is also constructing rail infrastructure as part of the massive, multimillion-dollar Standard Gauge Railway (SGR) project.
Then there is Lake Tanganyika's Kibirizi port, which links the two nations via the second-largest and second-deepest freshwater lake in the world.
These collaborative infrastructure initiatives seek to enhance social cohesion, trade, and investment between the nations and the entire East African Community, of which the DRC is the newest member.
A committee comprised of ministers from both sides was also established by the two leaders to look for areas of cooperation; to date, more than 50 recommendations have been made.