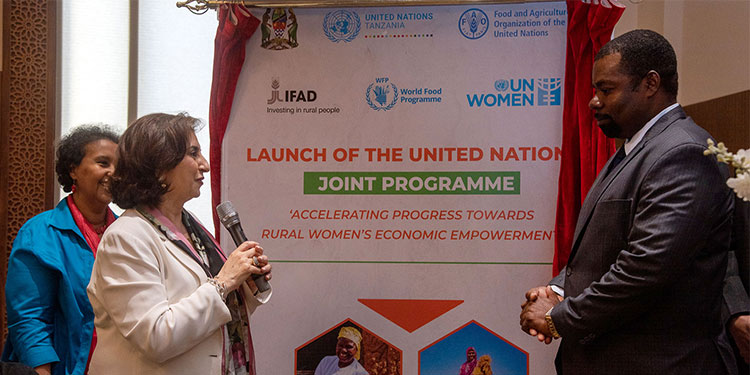 UN Women, the World Food Programme (WFP), the International Fund for Agricultural Development (IFAD), and the Food and Agriculture Organization of the United Nations (FAO) have started a five-year project in Tanzania called Accelerating Progress Towards Rural Women's Economic Empowerment project.
The $5 million project, funded by Norway and Sweden, will help more than 8,000 rural women in Singida, Dodoma, and Zanzibar secure their livelihoods in the agriculture sector.
Smallholder farmers produce food in Tanzania, where women make up the bulk of the workforce and generate the majority of their income from subsistence farming.
Gender equality is essential to reaching the Sustainable Development Goals, according to Honourable Suleiman Masoud Makame, Minister of Blue Economy and Fisheries, who spoke at the event's opening. Tanzania has acknowledged this and enacted laws to enhance gender equality.
"As a government, we recognise and value the UN's ongoing engagement with Tanzania in improving gender equality, particularly in the agricultural sector. This combined initiative by the FAO, IFAD, WFP, and UN Women is proof of their ongoing assistance.
In order to address the difficulties of the climate crisis, which disproportionately affect women due to their limited access to agricultural resources, lack of decision-making power, and inadequate adaption measures, the programme will increase women's competence in climate wise agriculture.
By assisting both new and current Village Savings and Loans Associations to obtain official registration and access funding, the initiative will support self-help organisations in developing their businesses, developing their leadership skills, and gaining access to markets.
The implementing agencies were represented by Sarah Gordon-Gibson, WFP Country Director and Representative, who stated: "The beginning of this collaborative initiative is timely as it comes at a time when the agriculture sector is facing a number of challenges.
The cooperation of the four UN agencies—FAO, IFAD, WFP, and UN Women—brings together specialised knowledge in gender, rural development, and agriculture that is essential for resolving the issues and fostering resilience. The moment is here to take action.
The Tanzanian experiment is a part of a larger worldwide initiative that is also being carried out in Nepal, Niger, the Pacific Islands, and Tunisia. In 2014, the program's first phase was introduced in the following countries: Ethiopia, Guatemala, Kyrgyzstan, Liberia, Nepal, Niger, and Rwanda.