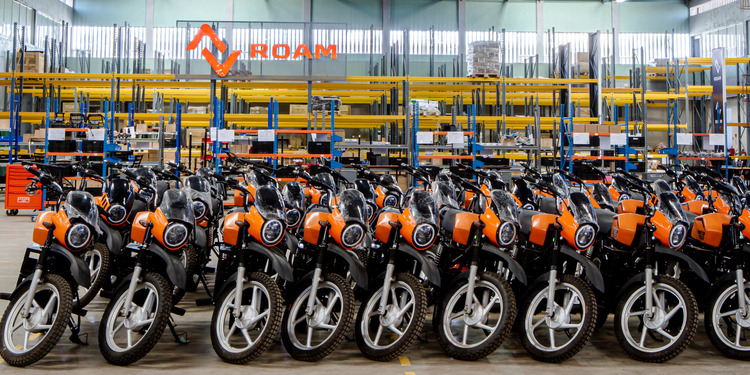 Roam, a Swedish-Kenyan corporation, will build approximately 50,000 electric motorcycles per year at a new plant in Nairobi, Kenya's capital. Roam Park is Africa's largest such facility, according to the firm. It also serves as Roam's new headquarters and battery lab.
Roam is not a new name to us. In the summer of last year, the firm, formerly known as OpiBus, announced a deal for African-made electric buses. Roam already had great aspirations for electric bikes and had a relationship with the African finance platform M-Kopa at the time.
Thus it is now necessary to really produce (more) Roam Air electric motorcycles. Roam claims that they will attain their yearly manufacturing capacity of over 50,000 motorbikes at the new Roam Park in Nairobi in a few years. The factory is run by Chief Operating Officer Brett Mangel, who formerly worked for Tesla.
Going forward with this new production plant is an important step in providing Kenya with sustainable mobility alternatives, according to Mangel. Roam is sure that this new site is a step in the right path since it has access to some of the best people, important partners, a robust infrastructure, and a logistics network.
Ahead of the Nairobi National Park, the new facility and headquarters are located off Mombasa Road. Almost 150 people are employed there in design, engineering, and production at the location, which contains activities for production, distribution, and storage, according to Roam.
Roam was established in 2017 with the goal of being the first business to supply locally made electric bikes and buses.
The market for e-motorcycles is enormous. The "boda-boda" sector, as it is known in Kenya, is significant business for low-income workers, with over 200,000 motorbikes registered on Kenyan roads each year. Motorcycles are employed for taxi services and logistics, and they are still the primary mode of transportation for many people.
And Roam is not the only firm offering electric motorcycles in Kenya; Fika Mobility and Alternet Systems (ALYI) with ReVolt motorcycles are also available.
Nonetheless, Mikael Gange, Co-Founder and Chief Commercial Officer of Roam, stated that they aimed to give a "compelling environmental and financial solution" for markets that have yet to be reached by e-mobility.
The Roam Air electric motorcycle has a starting price of $1,500 and can be booked online. While the prices appear high, Roam secured a large-scale supply arrangement for its electric motorcycles with African finance platform M-Kopa in August. The fintech firm offers loans and digital financial services to unbanked African individuals. The agreement with Roam will allow the firm to offer electric motorcycles on credit, decreasing the hurdles to entry for customers through reasonable payment plans.