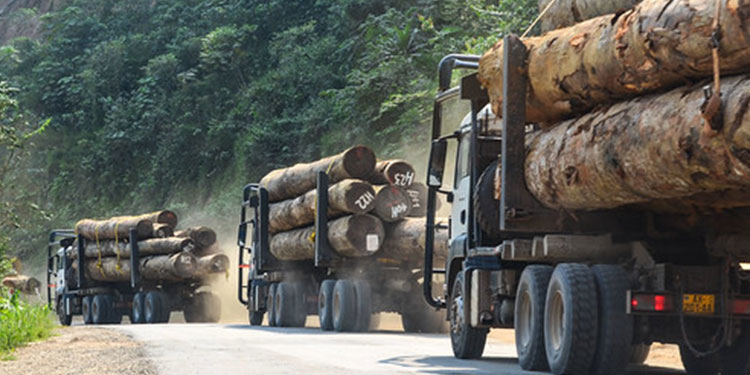 The 200 million hectares of dense, humid forests in the sub-region—more than half of which are unclassified—are likely to come under increasing pressure from timber export, especially to China and other Asian nations as the demand for wood increases globally and Central Africa's substantial reserves are taken into account.
According to the Congo Basin Forests – State of the Forests 2022 report published by the Central Africa Forest Observatory (OFAC), the value of Central African timber exports to Europe has more than halved over the past ten years, dropping from 1.4 billion USD to 600 million USD. Over this time, markets in Asia received a large portion of the 4.2 million tonnes of wood produced in Central Africa.
The implementation of more stringent European control measures to ensure the legality of wood, particularly the FLEGT Voluntary Partnership Agreements, has prompted wood export from Central Africa to Asia, according to Nicolas Bayol and other researchers who looked at trends in the Congo Basin's timber sector for the report. As a result of this development, China has emerged as the region's top trading partner, having purchased wood worth USD 1 billion in 2020.
With the exception of Gabon, which uses the Nkok Special Economic Zone as a benchmark and processes all of its harvested timber, the rate of timber processing in Central African nations varies. Cameroon processes 70% of its 2.5 million m3 total, the Democratic Republic of the Congo 55% of its 300,000 m3, the Central African Republic 55% of its 550,000 m3, the Congo 55% of its 1.8 million m3, and Equatorial Guinea 20% of its 800,000 m3 total. However, primary processing accounts for a considerable portion of exports from most of the nations.
"Cutting operations in Central African forests that have been judiciously logged cause only little losses to the carbon pool, often less than 10% of the initial volume of the area cut each year. According to Caroline Duhesme of the International Tropical Timber Technical Association (ATIBT), one of the report's contributors, with a rotation of 25 to 30 years, this only accounts for 0.3% to 0.4% of the total annual carbon stock, which is far less than the tropical forests' annual growth rate of 1.5%.
The researchers advised that development plans created in the early 2000s, which have shown to be pretty good harvest planning tools, be improved and tailored to the unique characteristics of the concessions in order to ensure the sustainability of timber resources. This coincides with the beginning of the final five-year cycle for the oldest established concessions that are still in operation in Central Africa.