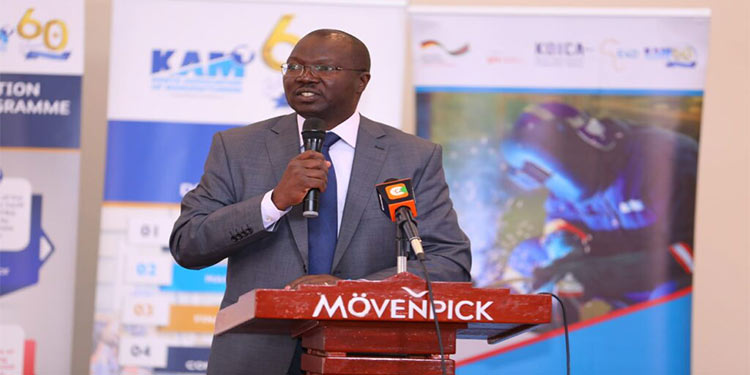 Thursday, 13 April 2023, Nairobi. Manufacturers have today approached the public authority to fortify the little and Medium Undertakings (SMEs) environment in Kenya. This was during the very first Assembling SMEs Show, facilitated by Kenya Relationship of Makers (KAM).
Talking during the gathering, Bureau Secretary, Service of Cooperatives and Miniature, Little and Medium-sized Undertakings, Hon. Simon Chelugui, saw that while Kenya has created projects and drives to help Miniature, Little and Medium Undertakings (MSMEs) throughout the long term, their true capacity is yet to be completely undiscovered.
"We have around 7.5 million MSMEs in Kenya, contributing roughly 30% to the Gross domestic product. 85% of MSMEs are in the casual economy. With the right strategies and guidelines as well as an empowering climate, they will be better situated to develop into enormous organizations. As Government, we keep on focusing on their turn of events, through drives, for example, the Tricksters Asset, as they are basic to understanding the Base Up Monetary Arrangement. To ease administration conveyance for ventures, we have laid out hatching places in 35 provinces."
Industry PS, Juma Mukhwana saw that the missing connection among farming and industry has prompted deficiencies of natural substances before and required the fortifying of significant worth chains. "Kenya generally relies upon imports for unrefined substances and moderate merchandise. Producing SMEs can possibly cure this test, which is basic for supporting industrialization. By reinforcing fabricating SMEs, we will have an amazing chance to create products for the neighbourhood and global business sectors. As an administration, we will keep making progress toward establishing an empowering climate and advance the simplicity of industrialization."
KAM Seat, Rajan Shah noticed that SMEs give tremendous open doors to financial change of our nation's economy.
"By giving a space where producing SMEs are serious, approach territorial and worldwide business sectors, and expand nearby agro-based inputs, then, they will significantly affect the economy. In this way, speed up the acknowledgment of our objective to expand the assembling area's commitment to the Gross domestic product from the current 7.2% to 20% by 2030."
He valued that partners are continuously destroying one-size-fits all methodologies and finding more nuanced ways of mediating and elevate miniature, little and medium organizations, adding that "As an Affiliation, we try to unite all partners in the SME environment, which involves item advancement; market access; monetary linkages; operations and warehousing; administrative consistence; and corporate administration. Our emphasis will be on establishing a positive climate for SMEs to prosper and guarantee that they are at the focal point of the talk on issues improvement."
The SME Show united Assembling SMEs, the Service of Cooperatives and Miniature, Little and Medium-sized Undertakings; Service of Exchange, Ventures and Industry; and different government organizations.