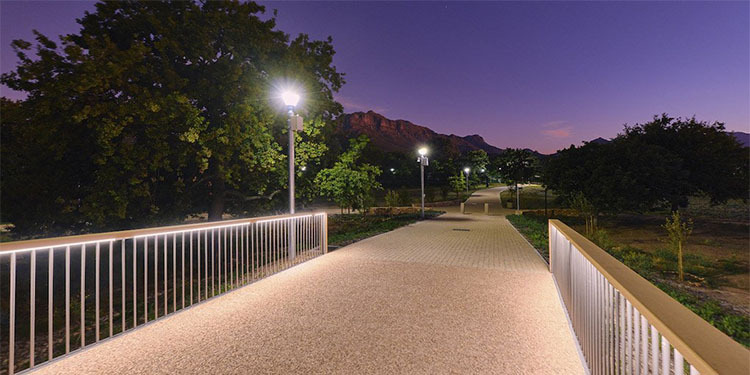 In Stellenbosch, South Africa, BEKA Schreder provided a total smart lighting system for a walkway that is open to the public. The project's goal was to improve a dangerous walkway so that everyone could use it safely.
The system had to be completely self-sufficient, able to handle any issues with the electricity supply, and able to run normally for up to 10 hours without power. The lighting system consists of Schreder ITERRA nodes, BEKASTAR LED post top luminaires with DALI dimmable capability, IP 66 DALI motion sensors, 3 and 4 m steel poles with 72 Ah lithium batteries, and 500 W inverter charge controllers. The poles are also equipped with cameras for round-the-clock camera surveillance and panic buttons.
When the space is not in use, the motion sensors keep the luminaires dimmed to avoid disturbing the nearby wildlife. When no one is around, the dimming is set to 10%, and it increases to 100% as they go closer. To prevent intrusive lighting into private space, luminaires put in front of residential buildings only ramp up to 50% of their maximum intensity.
The adjustable dimming level per pole was made possible by Schreder ITERRA technology. 6 m separates the detection area from the pole. A person is never allowed to stroll into the dark because two poles are always activated when a person is identified.
In South Africa, BEKA Schreder creates and produces energy-efficient LED lighting products that are suited to the region's needs.
They feel extremely privileged to have collaborated with Converge Consulting to deliver a fruitful smart LED lighting solution for this project.