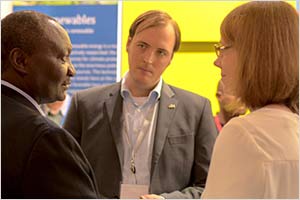 German technology is most noted for it's out of the box thinking, quality, durability and consumer satisfactory products. Their successful presence in the market is a proof of reliability; they plan to bring the same trust to Kenya as they participate at the 21st KITE Africa expo. The exhibition that highlights the fast growing consumer market and its supporting sectors that takes place annually. This year it will be held at the Kenyatta International Convention Centre (KICC) in Nairobi from 4th – 06th September, 2018.
The multi sector exhibition houses displays from over 25+ countries and entertains over 4800 visitors. The fair will cover exhibits from agricultural sectors, medical & pharmaceuticals divisions, the plastic, printing & packaging industry, food & beverages industry, hospitality sector, textiles, home appliances, electronics, accessories, footwear, bags, machinery, gadgets and more.
Germany and Kenya's relationship goes back to a time, when the later was winning its independence, a status of a free country. They have shared a warm relationship and have collaborated since 1963 in various trade drafts, exchanges and understandings. Kenya's regular exports to this nation, makes it their numero two economic partner in Europe. Through their participation at the expo, they aim to form an even stronger connection with the local entrepreneurs, traders and distributors. Some of the companies representing Germany at the exhibition will be Acto Gmbh, Schreyer Tool Grinding Machines, Kaeser, Federal Ministry for Economic Affairs and Energy (BMWI), Robert Rontgen Gmbh, Gebruder Leonhardt Gmbh & co. Kg Blema Kircheis , to name a few.
The Consumer market has performed tremendously, boosting development in 2018. Today, Kenya is the ideal hub for investments and business related establishments. The exhibition will also see products and inventions from international markets such as Turkey, India, Kenya, Saudi Arabia, Belgium, Switzerland, Bangladesh, Malaysia, Singapore, Latvia, Egypt, Albania, Portugal, Korea and many more. Traders, business experts, professionals, doctors, engineers, decision makers, CEO's, government officials, will all be seen under one roof having numerous discussions and business exchanges at the event.
The growing needs and demands of the masses is an opportunity to grab, making KITE the ultimate source of networking in the East African region. The exhibition is a sole stage delivering equal standards of quality, quantity to an array of exporters, buyers, distributors across the continent. To add on, the 21st edition of the expo is a portrait of Africa's invitation to the world to participate in its growth towards excellence.
For information visit: https://www.expogr.com/expokenya/
Joel D'silva
Media Manager
Expogroup
Email: feedback@expogr.com
Int'l: +971 50 634 1066| Kenya: +254 792268513