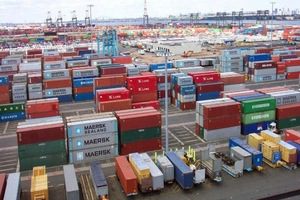 East Africa's first inland dry port in Rwanda has officially commenced it's operations. Located 20 kilometers from the capital city Kigali, the inland dry port aims to improve the country's import and export fortunes from main ports in Kenya and Tanzania.
The US $80m, 13 hectares facility features a container yard, an Inland Container Terminal with modern warehousing capacity and administrative and services buildings.
As reported by the quarterly GDP report of the National Institute of Statistics of Rwanda, as of August 2018 imports have increased to US $215m and exports have increased to US $93m. Fairly, Rwanda's imports runs at US $270m from 1998 to 2018.
This significant increase is evident year after year as companies invest more on energy, lubricants, capital and intermediary goods. The influential facility will make Rwanda, despite being a landlocked country, a regional hub for intra-African trade.
By embracing use of modern machinery, the cargo holding capacity vastly improves efficiency and reduces logistics. The size and capacity of the port eliminates the wait for assets to be cleared by making it possible for the trucks to easily deposit their containers.
However, CEO of DPW Logistics Rwanda Sumeet Bhardwaj clarified that despite the facility commencing operations, it will be officially launched between January and February 2019.
In 2016 the Dubai-based global port operator was granted a 25-year concession to advance the Inland Port that has an annual capacity of 50,000 TEUs and 640,000 tonnes of warehousing space.
The company further added that it is also establishing a solution for road transport that will enable clients to wholly outsource their end-to-end logistics requirements including clearances, international shipments, repacking and final deliveries.