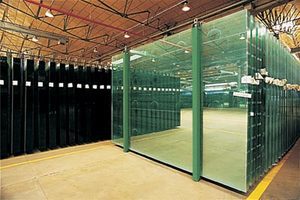 According to industrial estimates the Float Glass Market in East Africa will exceed USD 235 million by 2024. Currently,Tanzania ranks 8th among the top 10 importers with USD 10.7 million which is roughly 4.3% of the total float glass imported to Africa and topping the list in East Africa however is Kenya with USD 17.5 million capturing 7.1% of the total float glass imported by Africa.
Middle-class population is rapidly growing in the Eaast African region which is increasing the demand for infrastructure upgradation and energy & power in Kenya, Ethiopia, Rwanda and Tanzania. Large scale urbanization, population rise and economic liberalization is creating growth opportunities for the East African flat glass market share which includes glass railings, floorings, aquariums, hardened building glass, glare reduction, improved security and clarity.
An extremely well utilized product, float glass is a basically sheet of glass made by floating molten glass on a bed of molten metal, usually tin, although lead and various low melting point alloys have also been used in the past. This method allows the sheet a uniform thickness and extremely flat surfaces. Usually float glass is soda-lime glass, but relatively minor quantities of specialty borosilicate and flat panel display glass are also produced using this process. The major classifications of this type of glass are Annealed Glass, Toughened Glass, Laminated Glass, Mirrored Glass, Patterned Glass, and Extra Clear Glass. Major ingredients tequired in the manufacturing process include silica sand, sodium oxide, calcium oxide, dolomite and feldspar.
The flat glass market demand from automotive applications is expected to grow at over 3.5% by 2024. Rising requirements for heat-insulating glass in vehicles and increasing automotive assembly and export business is expected to further stimulate the product demand. These products are known to provide superior properties such as absorbing infrared rays from sunlight, thus reducing the amount of heat in the vehicle. They also prevent prolonged exposure from harmful UV rays which are capable of serious skin problems.
In Kenya flat glass market is expected to see gains at over 5% by the end of 2019 on account of the rising number of public construction projects driven by policy changes at government level. This is also boosted by an increase in residential and mixed-use development projects driven by population rise. Increasing building modernization along with rising consumer demand for stylish interiors may substantially affect the flat glass demand in the country. Applications in the residential sector include windows, internal partitions, doors and mirrors primarily owing to higher strength, energy efficiency, aesthetic appeal and improved privacy.
The Tanzania flat tempered glass market expects consumption at over 12 kilo tons by the end of the coming year. Rapid growth in the automotive sector owing to improved trade, foreign investment, low duties and rising re-exports are likely to boost East Africa flat glass market size in the region. In Tanzania an increase in vehicle sales was driven by improved cash availability, rising disposable income and convenient loan facilities indicating ample growth potential for the market. This trend is expected to to continue well beyond 2025.
Rwanda basic float glass market demand is witnessing an estimated growth at approximately 4.2% till 2024, driven by increasing demand for windows from domestic housing sector, and glazed exterior surfaces in commercial buildings. The product allows high degree of light transmission, production in different colors, opacities, and chemical resistance which is expected to boost East Africa flat glass industry demand. Automotive segment could increase significantly on account of growth in tinted, solar control, and privacy glazing glass demand.
Impala, Saint-Gobain, Kings Manufacturers, Hebatullah, and Cadasp Tanzania are the prominent market participants in East Africa flat glass market. Manufacturers prefer to focus on technological advancements, new product development and understanding customer expectations to enhance their product offering thereby enhancing the East Africa flat glass market demand. Float Glass Market Key Vendors: AGC, Saint Gobain, NSG Group, Guardian, Sisecam, PPG, Cardinal, Central Glass, Taiwan Glass, Xinyi Glass, China Southern Glass, Fuyao, Sanxia New Material, SYP, FARUN, Shahe Glass Group, China Glass Holdings, China Luoyang Float Glass, Qinhuangdao Yaohua, JINJING GROUP, Shanxi Lihu Glass, Jingniu Glass Ceramics,
Tempered Glass Market size was over USD 24.5 billion in 2016 and industry expects consumption above 4.3 billion square meters by 2024. Increasing application scope in automotive and construction industries along with increasing consumer demand for improved infrastructure facilities are expected to drive the tempered glass market size.