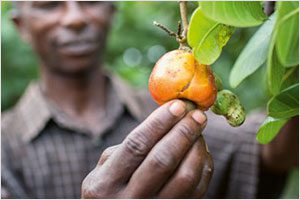 The agriculture sector received a big boost recently as The Tanzania Agricultural Development Bank (TADB) devised a plan to build capacity for local cashew nut processors, to enable them to increase production and value addition to the cash crop.
Cashews are a major export crop for Tanzania and a significant source of income for many small farmers.Tanzanian cashews are considered one of the best quality cashews in the world.
TADB Managing Director Japhet Justine inspected cashew nut processing activities, by small scale processors, focusing on the fact that capacity building for the crop processors was the bank's top priority.
Speaking to members of an association named 'Kitangari Tulinge Women Development Association' (Klof TUWEDEA), Mr Justine said TADB prized the contribution of small scale processors of cashew nuts, adding that the bank was ready to support them through soft loans in a bid to increase efficiency in their production activities.
"Value addition to crops produced in the country is the number one priority at TADB, which recognizes the contribution of small scale holders in facilitating realization of the objective," he said.
Mr Justine added that TADB also aims to help small scale producers in discovering markets through their cooperatives; this will help in revolutionizing agriculture.
He indicated that the bank planned to grant loans to small scale processors in the form of modern machines, including dryers, cleaners and sorting machines.
"We will make sure that you get quality and modern machines in order to increase quantity and quality of cashew nuts," he said.
Speaking during the tour, farmers thanked the government for the decision to buy raw cashew nuts at 3,300/- per kilo, saying the move had given them a security of income.
A member of KITUWEDEA, Fatma said the move by the government to purchase cashew nuts had motivated farmers in the district.
"We thank President John Magufuli for his intervention and for the decision he made to purchase cashew nuts; now we have reliable income," she said.