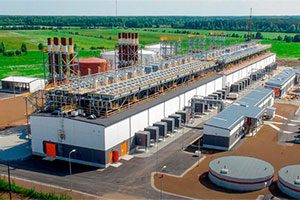 The Manantiales Behr basin is one of the most important oil fields in Argentina, and the new Wärtsilä plant will extend the efficiency of the area's power supply by restoring an existing gas turbine plant.
The plant will operate on five Wärtsilä 31SG engines, the most well organised gas engine in its class.
With its potential to reach full output from start-up in two minutes, the Wärtsilä solution will balance the irregular supply from an adjacent wind farm, thereby productively providing a hybrid energy system.
The order with Wärtsilä contains a complete engineering, procurement, and construction (EPC) project, and was booked in Q4 2018.
The gas fired plant will have an begining output of 57.4 MW, which can later be extended to 90 MW. The electricity produced will essentially be used to power the local oil fields, with any surplus being sold to the national grid.
"We needed a greater and more dependable power supply for this important oil producing region, and we are sure that Wärtsilä has the experience and the technology to deliver it. The black start capabilities of this plant mean that should there be a grid power failure, the Manantiales Behr plant will be able to deliver emergency electricity to the nearby city of Comodoro Rivadavia," said the customer.
"High efficiency, and a proven track record in EPC project deliveries are the reasons behind the award of this contract. During the past couple of years, we have successfully completed seven projects on-time and on budget in Argentina. This experience speaks for itself," commented Alberto Fernandez, Regional Director, Latin America South, Wärtsilä Energy Business.
In addition to its marvellous efficiency, the Wärtsilä 31SG engine is capable of operating in challenging climatic conditions.
The site conditions in the Manantiales Behr basin include wind speeds of up to 180 km/hour, and temperatures that can range from minus 10 degrees C to plus 40 degrees C.
The plant is expected to become fully operational in October 2020.