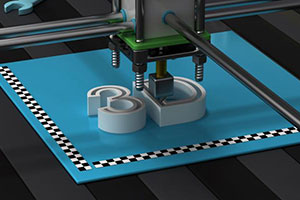 The concept of making 3D materials with software and molding the materials like plastics or metals according to the prescribed shape has created an enormous demand in many industries like construction, healthcare and aerospace & defense with ease of making the desired shapes. This market is predominant in the regions of East Africa as there is increasing demand in significant verticals like construction and healthcare due continuous government support and presence of key manufacturers.
The Middle East & Africa 3D printing market was valued at $26.44 billion in 2018 and estimated to reach a value of $33.49 billion in 2024 at CAGR of 26.60%. Major points like reduction in human error and use of multiple materials for printing, customization of products with less time and cost also, government investment in 3D products are accelerating this market.
3D Printing market is classified by type of material, by technology, by use, by the process, by application, by vertical and by geography. By the type of material, they may be segmented as polymers, metal and alloys, ceramics and others. Among these plastics and metal hold the
highest share as they have an increasing demand for biomaterials and specialised materials. By technology, they are segmented into Fused deposition modelling, Selective laser sintering (SLS), Selective laser melting (SLM), Laminated object manufacturing (LOM), Electronic beam melting (EBM)
and Stereolithography (SLA) and others.
By use, they are categorized as commercial purpose, industrial purpose, and others. By process, these are segmented as Binder Jetting, Direct Energy Deposition, Material Extrusion, Material Jetting, Powder Bed Fusion, Sheet Lamination and Vat Photopolymerization. By application, they cane be
segmented as Functional part manufacturing, Tooling, and Prototyping.
Vertically, these are segmented as Automotive, Aerospace and Defense, Healthcare, Architecture and Construction, Consumer Products, Education, Engineering, Energy, Printed Electronics, Jewelry, Food and Culinary and Others where aerospace and vertical defense lead the markets as they are
backed upon by strong demand and government support as well.