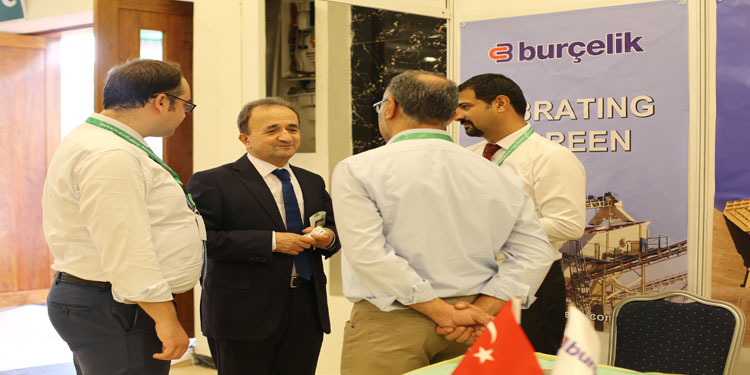 22nd Buildexpo Tanzania opens at Dar-es Salaam from the 12th to 14th September 2019 at the Diamond Jubilee Hall between 10:00 AM and 6:00 PM. The trade exhibition will be inaugurated by, Permanent Secretary (Works), Ministry of Works, Transport and Communication, Tanzania at 11:00 AM tomorrow.  The largest international trade exhibition in East Africa dedicated to the building and construction industry will introduce a large number of companies from around the world to Tanzania.
Dignitaries and Ambassadors from various countries will also be present to support the participants and encourage more trade opportunities. Among them will be H.E. Mr. Mousa Farhang – Embassy of Iran, H.E. Mr. Peter Van Acker – Embassy of Belgium, H.E. Mr. Kim Young Su – Embassy of North Korea, H.E. Dr. Sawsan Alani – Embassy of Syria, H.E. Mr. Anselem Sanyatwe – Embassy of Zimbabwe, Mrs. Michelangela Adamo – Embassy of Italy, Mr. Mohamed Ibrahim – Embassy of Egypt, Mr. Andrey Nikitin – Embassy of Russia.
Co-located this year with the 22nd Buildexpo Tanzania are 5th Afriwood – focusing on the timber, woodworking and sawmill sectors, 5th Minexpo – bringing in investors and equipment suppliers for the mining sector and 5th Lightexpo – introducing new and innovative lighting products to Tanzania. Showcasing a wide range of products and machinery the exhibition brings to Tanzania companies from a large number of countries who are looking for distributors, retailers, importers and re-exporters.
Countries dominant this year are Italy, Egypt, China and UAE. Companies including industry leaders like Ambrovit S.P.A, Dragflow S.R.L, Itare S.R.L, Termolegno Drying Kilns and Big On Dry S.R.L (Italy), Aldhabi Contracting & False Ceilings, Neisco and Chemicals For Modern Building International (Egypt), Total Foundation Solutions FZCO, Al Khaleej Ceramics LLC and Al Hatimi Trading FZE (UAE), Poqutec (Korea), Inchem Polonia  (Poland), Swartland Windows & Doors and TNC International (South Africa), EDGE Innovate (United Kingdom), Tece Dekor AS (Turkey), Gizmo Global Connections Ltd and Wilo East Africa Ltd (Kenya), Zhejiang Dayuan Pumps Industrial Co.,Ltd, Sunkey Aluminium, Xiamen Zheng Liming Metallurgical Machinery Co Ltd, Skyline Aluminium Co., Ltd., and Guangzhou Hexin Industry Co.,Ltd. (China), Atlas Sport SRL (Romania), Arya Baron (Iran) and Marmo e Granito Mines (T) Ltd.
Competing at this international stage are also major Tanzania based industry leaders like Superdoll Trailer Manufacture Co. (T) Ltd, Rockplant East Africa – Hitachi, Hyundai East Africa Ltd, Multi Cable Limited, Insignia Limited, Motisun Group, I Home Ltd, Jmb International Ltd, Marmo E Granito Mines (T) Ltd, Lonagro, New Jarifashion, Atlantic Metal Limited, Mikocheni Builders Merchant Limited, Dar Es Salaam Glass Works Ltd. and Mpingo Conservation & Development Initiative (MCDI) which are participating at this event along with many more local and international players.
Supported by Tanzania's premier organizations like TANTRADE, TPSF – Tanzania Private Sector Foundation, National Commercial Directory and National Housing Cooperation the Major company leaders from East Africa and surrounding regions are invited directly in collaboration with regional trade bodies in Kenya, Tanzania, Ethiopia, Uganda, Somalia, Mozambique and Congo along with top industry professionals such as builders, developers, architects, consultants, engineers, manufacturers, importers & distributors.
A recent World Bank assessment summarizes that Tanzania has sustained relatively high economic growth over the last decade, averaging 6-7% a year. The country's overall population is about 55 million has made it a vital market in the East African region. The Government has prioritized efforts to improve public administration, planned scale-up in infrastructure projects and manage public resources for improved socio-economic outcomes. For the last year, official data report that industrial output grew at 12.1 percent, up slightly from 10.7 percent output in previous period, primarily because mining, water, and construction activities expanded. In 2017/18, mining and quarrying grew by 17.5 percent, water, transport and storage activities by about 17 percent, and construction by 14 percent. Growth in mining was primarily driven by significantly higher coal and natural gas production. The macroeconomic environment is expected to be stable in the near future but with the boost of reforms not far from fruition.
Visit: http://buildexpo.expogr.com for more information or contact:
Selwyn Johnston
Media Manager, Buildexpo ( East Africa )
Email: buildexpo@expogr.com
Int'l: +971 43050755 | Tanzania: +255 621 698 269 / +255 767 246 267