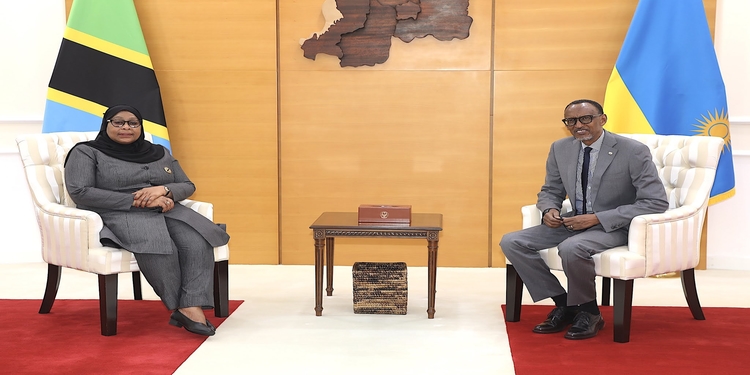 Tanzania and Rwanda have signed four Memorandums of Understanding (MoUs) to improve bilateral ties between the two countries.
The two signed memorandums of understanding (MOUs) on collaboration in the sectors of information and communication technology (ICT), immigration, education, and medical product regulation.
President Samia Suluhu Hassan stated immediately after signing the MoUs that conversations with Rwandan counterpart Paul Kagame focused on the importance of developing economic connections between the two nations.
The two nations' ties have the potential to expand intra-trade and investment. Tanzania's exports to Rwanda totalled $247 million in 2019, according to the United Nations International Trade Statistics Database (about Sh568.1 billion).
Rwandan exports to Tanzania totaled $5.04 million during the reporting period (about Sh11.5 billion). President Hassan expressed confidence that Tanzania and Rwanda would benefit from deeper and stronger trade and foreign-direct investment ties that would boost growth and prosperity in both the short and long term.
Deepening economic connections would provide benefits in other sectors as well, resulting in more chances for strategic bilateral collaboration. President Hassan stated that the two nations have agreed to collaborate on the use of ICT, which is critical to both countries' growth.
"Let me applaud Rwanda for being one step ahead of us in the realm of information and communication technology. We're eager to learn from you "remarked the Head of State
Rwanda's Kagame, on his part, stated that the two countries shared more than just a border. They also have a long history together. "Our shared aim to deliver prosperity to our people has always been at the core of our partnership," President Kagame stated.
He said that by signing the four agreements, they had pledged to ensuring that President Hassan's visit to Rwanda resulted in real achievements and provided the bilateral relationship fresh impetus.
This has also given new momentum to critical infrastructure and investment projects of mutual benefit, including as the Standard Gauge Railway (SGR) line, milk production, and better port logistics, according to President Kagame.
"Rwanda is ready to collaborate closely with Tanzania in the context of the EAC (East African Community) and beyond to accelerate our nations' and region's recovery from the Covid-19 epidemic," he added.
"We must continue to collaborate in order to build a stronger and more prosperous EAC." The difficulties that our area faces can only be handled with unshakable unity and grasping possibilities for mutual benefit collaborations that may arise as a result of our better bilateral relationship." Ms Hassan said.