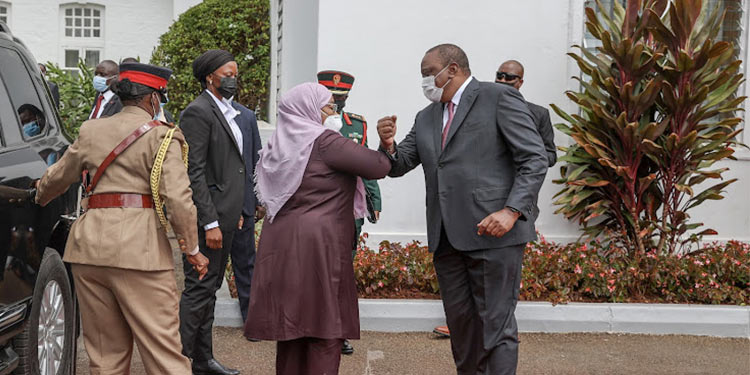 After years of feuding, Tanzania's president, Samia Suluhu Hassan, arrived in Kenya for a two-day visit aimed at strengthening ties between the two East African neighbors.
Tanzania has distanced itself from the East African Community (EAC) in recent years under President John Magufuli, during a period of growing economic rivalry and accusations of unfair trade practices between the two countries.
Hassan, who took office as her country's first president in early April after Magufuli's untimely death, was greeted by two ministers upon her arrival in Nairobi.
In a joint statement, Kenyan President Uhuru Kenyatta remarked, "Your visit has provided us with a chance to reinvigorate our friendship."
He went on to say that Kenya and Tanzania will work together to guarantee that the two nations' unity 'continues to develop and be reinforced for the sake of our people.'
'We agreed that our health ministers should develop a plan to make border crossings and controls easier,' said Ms. Hassan, who is visiting for the second time after Uganda.
This visit, which comes five years after Mr. Magufuli's, signals a new departure from his predecessor's manner.
Tanzania announced fresh measures to combat the spread of Covid-19, despite Mr. Magufuli's repeated denials that the virus existed and that his country had been cleansed of it via prayer.