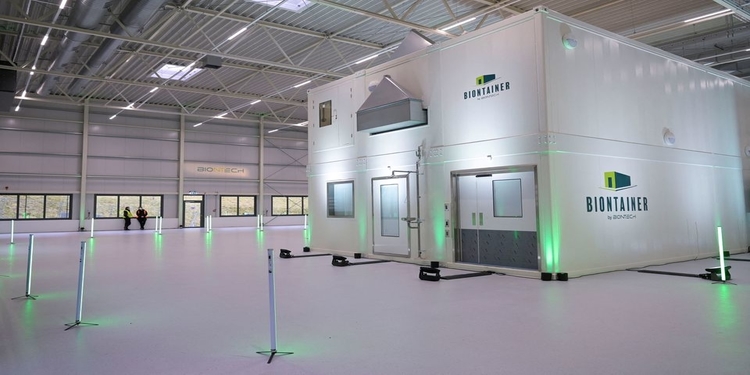 BioNTech (22UAy.DE), a German company, has designed a vaccine factory constructed out of shipping containers, which it hopes to ship to Africa as assembly kits to help alleviate what the World Health Organization calls "severe discrepancies" in worldwide COVID-19 vaccine access.
The factory prototype will play a key role in helping the biotech company fulfil a promise made last year to Rwanda, South Africa, Senegal, and the African Union to secure mRNA vaccine production on the continent, where inoculation rates have lagged considerably behind those in other areas of the world.
Work on the African Union's first mRNA manufacturing plant is set to begin in mid-2022, with the first container module likely to arrive in the second part of the year, according to BioNTech. The facility, which is divided into two groups of six 40-foot containers, is expected to start producing vaccines roughly a year after the assembly kit is delivered.
At BioNTech's primary vaccine production location in Marburg, Germany, the presidents of Senegal, Ghana, and Rwanda, as well as other dignitaries such as the WHO Director General and the German development minister, were shown a prototype of one six-container module.
The conference was held ahead of an EU-African Union conference, at which the EU is likely to reaffirm its commitment to a 150-billion-euro investment package in Africa. BioNTech collaborated with Pfizer to create Comirnaty, the most extensively used COVID-19 injection in the Western world, with over 2.6 billion doses administered.
Depending on future scientific advances and medical needs, the new plant could also be utilised to create mRNA vaccines against other diseases such as malaria or tuberculosis.