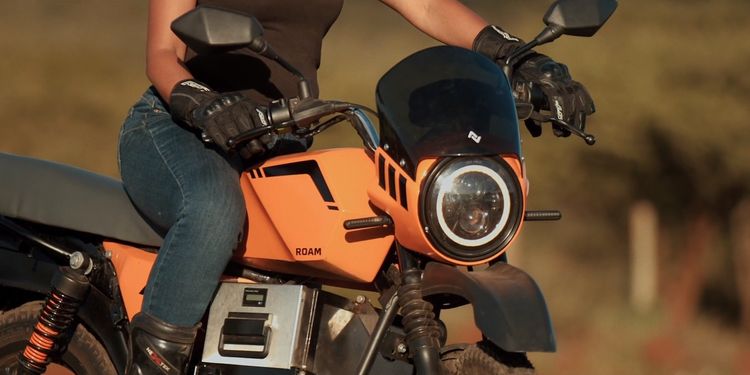 ROAM, a Swedish-Kenyan mobility startup, has released its first production-intent model of electric motorbikes in Africa, intended for both urban and rural terrain. The ROAM Air is Africa's first completely adapted electric motorbike for the commercial sector, and it wants to set a new standard for sustainable transportation in Nairobi and beyond.
ROAM was created in 2017 under the moniker Opibus. Despite renaming in April, it is still located in Kenya, where it develops, builds, and produces electric cars to assist the African continent transition to a more sustainable transportation future.
The firm originated as a research project at one of Sweden's leading technological colleges, with the goal of implementing electric mobility in emerging countries. Its initiatives include EV conversions of mining SUVs and energy storage, as well as the design and construction of passenger buses and electric bikes from the ground up.
In fact, ROAM teamed with Uber this year to deploy over 3,000 electric bikes across Africa, after the largest investment round ever for an African electric mobility firm ($7.5 million).
ROAM has released its first official electric motorbike model, the ROAM Air, as it pursues its next set of electrification ambitions in Africa.
Following years of study and months of preparation, ROAM announced the official Air launch today in a news statement issued from Nairobi, Kenya. According to ROAM, the Air is the best electric motorbike for Africa and will replace the motorcycles that the firm initially advertised as a test programme.
Filip lovstrom, co-founder and CEO of ROAM, stated, "We are excited to introduce the ROAM Air, our next-generation electric motorbike, which has been meticulously modified and engineered for the African use-case, with a particular emphasis on cost, dependability, and connection. An electric motorbike designed with safety in mind for various business use-cases such as transporting passengers or freight. It certainly demonstrates our commitment to providing the continent with world-class EV technology."
ROAM claims that at $1,500, it has attained "near cost parity" with combustion-powered bikes in the African market, but with up to 70% cheaper operating costs. In the near future, ROAM stated that it will begin ramping up Air manufacturing in Nairobi to suit the significant consumer interest that is currently building.
ROAM is eyeing big commercial motorbike distribution channels across Africa as its first electric motorcycle approaches scaled manufacturing, including financiers for its consumers, exchange station operators, and huge commercial fleets.