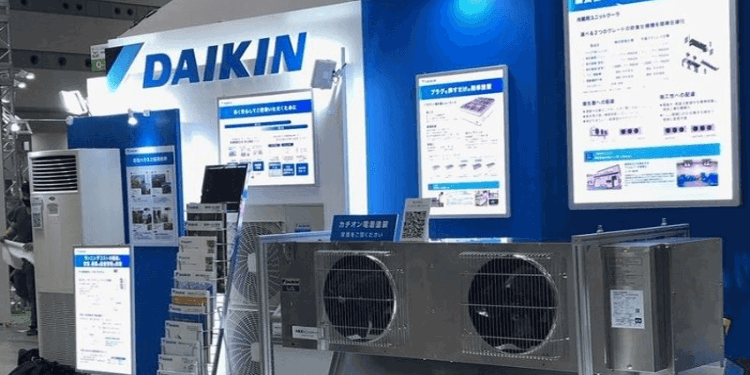 In collaboration with ETIWA TECH LTD/GTE, Daikin, a leading global innovator and provider of cutting-edge, high-quality HVACR products and solutions for residential, commercial, and industrial applications, has announced the opening of its first training centre in Nigeria (located at Destiny Homes Estate 11, Engineer Toriola Street Ibeju Lekki, Lagos State). A pioneer in offering top-notch technical vocational training and personnel development, ETIWA TECH is a non-profit organisation. The new development centre will extend Daikin's expertise and know-how to further enhance market capabilities and knowledge in conjunction with Daikin & ETIWA.
The opening of Daikin's new training facility seeks to deliver the knowledge and expertise to create a generation of well-equipped technicians and installers in Nigeria given that Africa is a vital market for growth and expansion. Additionally, the relationship is intended to advance Daikin's social corporate responsibility strategy.
"With the opening of the new training centre, Daikin hopes to further expand and respond to the growing needs of the Nigerian market," stated Masaaki Miyatake, Chairman & President of Daikin MEA. We maintain our dedication to contributing to society and building knowledge and expertise to grow the capabilities of the people while consistently offering innovations and energy-efficient goods that ensure the highest air quality and comfort. We are excited to increase our knowledge of the industry and offer premium eco-friendly air conditioning systems.
By appointing new channel partners and establishing more training facilities there, Daikin aims to create a cleaner environment in the African region. These efforts are made in an effort to increase access to better energy efficiency and air quality while also bolstering service and aftermarket support. Daikin's priority is on sustainability, indoor air quality (IAQ), raising public awareness of a healthy living environment, and delivering new inverter R32 product solutions.
The managing director of Etiwa Tech, Jody Adewale, stated: "The HVAC business has recently witnessed new technology breakthroughs. New products and services are being created to help boost energy efficiency, reduce expenses, and raise customer happiness. When it comes to cutting-edge technology like the VRV system, Daikin is at the forefront. With the use of cutting-edge technology, this alliance aims to ensure that HVAC specialists receive the training and upskilling they need to create high-caliber work for the industry.
Daikin MEA established its first sales office in Lagos, Nigeria, earlier in 2020. The brand aspires to be more accessible to clients by attending to all needs as part of its plan for expanding into Africa.