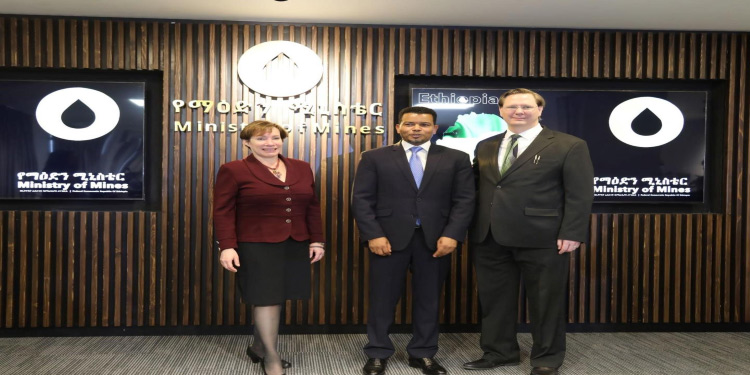 The Government of Ethiopia signalled its readiness to issue license for a United States company to commence the long awaited gas and oil production.
This is indicated by Eng. Takele Uma, Minister of Mines of Ethiopia, who received a study result about the economic feasibility of Ethiopia's natural gas and oil by the joint company of the United States and the Netherlands – Netherlands, Sewell & Associates, Inc. (NSAI).
"…My grandfather used to say we have natural gas. I can now proudly say we have how much we have. That indicate we can bring credible companies with technology finance and experience to transform for domestic purposes and export of oil," said Eng. Takele Uma.
"This time tells us that if we come together and move forward, the time to prosper Ethiopia is make sure very near. In this journey I am very confident that we are bringing American company to invest in our natural resources especially in gas. Because this time is in Ethiopia and Africa everybody is looking for natural gas…This time Ethiopia is standing firm to produce natural gases" said Eng. Takele Uma.
Eng. Takele Uma stated that this is for the 1st time Ethiopia has got clear estimate about the volume of its gas and oil reserves in three locations. "We never had a report like this…We used to hear from companies before that we may have around 2 trillion cubic feet of crude oil," he said. "Our volume of reserves calculated from the three different fields in the Ogaden Basin (Calub, Hilala, Dohar) is 7 Trillion Cubic Feet (7TCF)," Eng. Takele said.
It was 5 months ago that the Ministry of Mines of Ethiopia has awarded the evaluation its oil and gas reserve to NSAI.
"..It is up to the Government of Ethiopia to decide based on our evaluation what to do with the resource," said the research company representative who submitted the evaluation report to Eng. Takele Uma, Minister of Mines of Ethiopia.