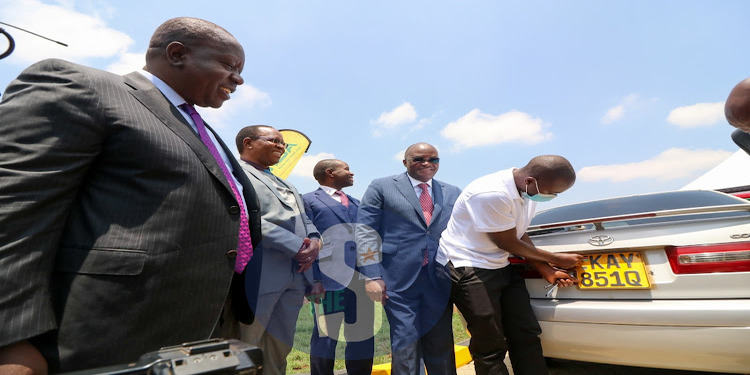 In an effort to minimise tax cheating and crime, the Kenyan government has implemented new generation number plates for all imported motor vehicles. However according Dr. Fred Matiang'i, the Interior Cabinet Secretary of the nation, who also described the action as a dragnet to stop tax cheating in the industry of car importation.
Kenyans are willing to spend Ksh3,000 to replace their outdated motor vehicle number plates with digital ones that have security measures to prevent theft and crime. At the GSU Recce unit Headquarters in Ruiru, Nairobi, the new number plates were introduced, and the digital plates were also displayed.
The new generational plates will be used on all vehicles, including motorcycles, three-wheelers, tractors, trailers, and those driven by ambassadors and representatives of international organisations.
All drivers must change their outdated licence plates within 18 months, according to Interior CS Fred Matiang'i. Matiang'i stressed that exercise is required and enjoined all drivers to change their licence plates within the allotted times.
Let us comply and change the plates within those 18 months when the NTSA staff asks Kenyans to do so. New licence plates will be issued starting with newly registered KDK series vehicles, and replacement of current licence plates will commence on October 1, 2022, according to Matiang'i. In order to catch dealers who delay paying taxes, he added, the digital number plates would be synchronised with the Kenya Revenue Authority computers.
We are taking this action because we want to improve our nation's security. We wish to strengthen the financial sector, increase openness, and aid other organisations like the KRA in carrying out their duties.
They will include a specific national flag imprint, a hologram, a watermark, separate serial numbers for the front and back plates that are connected to the vehicle's chassis number, and a bespoke font in addition to a particular template.
The immediately recognisable smart licence plates will also record data such as the year of production, vehicle type and colour, engine number, transmission type, date and location of manufacture, and insurance information. It was claimed that existing licence plates lacked sufficient security elements, making it challenging for enforcement organisations to distinguish real licence plates from phoney ones supplied by unauthorised personnel.
The licence plates serve as a foundation for tracking and observing the nation's vastly increased number of automobiles.
Macharia gave instructions for Kenyans to purchase the licence plates from NTSA, which will provide rules in the upcoming days. To make it more challenging to trade in cars that have been carjacked from other nations, the chain of registration will involve creating a database of all the vehicles registered directly at the point of entry and connecting the NTSA and the National Police Service databases.