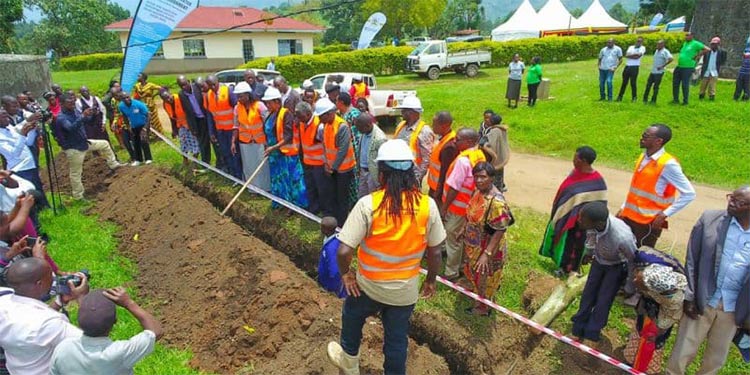 UGANDA: The Karago Drinking Water Project's Phase II will benefit 21 Villages.
Aisha Sekindi, Uganda's Minister of State for Water and the Environment, is launching the second phase of the Karago drinking water supply project in the Kabarole district in the country's west. The goal of this section of the project is to improve water supply in 21 villages.
On September 16, 2022, the Karago Water Supply Project's second phase began. Aisha Sekindi, Uganda's Minister of State for Water and Environment, oversaw the event where this was done. A contract that was just signed between the Ugandan government and the business M/S Vidas Engineering Services is being used to complete the work in this municipality in the Kabarole area. The project also has the Water and Sanitation Development Facility-South West (WSDF-SW) as a supervisor. It will take 12 months to complete the project.
According to the Ugandan Ministry of Water and Environment, the future water delivery system for Karago will be a gravity system with a 300 m3 pressed steel reservoir raised on the Moon Hill (or Rwenzori, a mountain range on the boundary between Uganda and the DRC) mountains. Building a 100 m3 reinforced concrete tank, two suppression stations, and a 50 m3 concrete sump are all proposed for the project's second phase.
In addition, M/S Vidas Engineering Services will install 15 public taps and lay 400m of polyvinyl chloride (PVC) pipes and fittings for the delivery of drinking water to the populace. According to the Ugandan government, the number of people in Karago Municipality who will have access to drinking water will increase over time, reaching 11,564 in 2023, 15,542 in 2024, and 20,888 in 2044 in 21 communities.
Estimated costs for Karago Phase II total 4.7 billion Ugandan shillings, or more than $1.2 million. It follows the conclusion of its first phase in October 2021 by nearly a year.