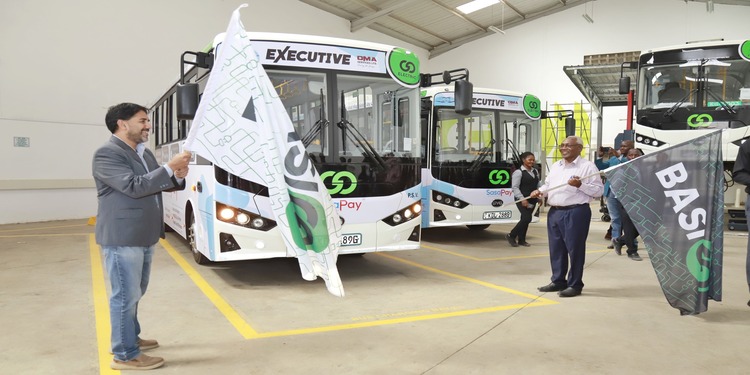 BasiGo, a Kenyan electric mobility startup striving to reinvent public transportation by offering public transportation bus owners with a cost-effective electric alternative to diesel buses, has delivered BYD K6 electric vehicles to another Nairobi operator.
BasiGo has delivered buses to OMA services, which will operate on the CBD – BuruBuru – Civil Servants Estate (CIVO) route. The buses on this route will be completely cashless, running on the Sasapay network and accepting payments using the popular mobile money app Mpesa. BasiGo also delivered the first of five K6 electric buses to Super Metro Sacco, one of Nairobi's other prominent public transportation companies.
It's fantastic to see that Nairobi's fleet of electric buses is expanding, due to BasiGo's revolutionary Pay-As-You-Drive Model, which lowers the battery barrier to entry for operators looking to purchase brand new electric buses.
It's fantastic to see that these electric buses are being extended to new routes throughout Nairobi. Electric buses deployed locally on more routes are the greatest approach to introduce and experience the world of electric transportation to the majority of people. The buses will also be constructed locally in Mombasa, Kenya, strengthening local industry and offering much-needed job opportunities.
According to a recent Kenya Institute for Public Policy Research Analysis (Kippra) survey, 8 out of 10 Nairobians walk or use matatus (small to medium-sized commuter buses) to work. According to the survey, 58.7% of Nairobi residents utilise these minibuses (matatus) to travel to work, whereas 17.1% walk. As we can see, matatus play an important part in Nairobi's transportation system. According to the publication, there are over 10,000 matatus operating in and around Nairobi. Increasing the introduction of electric buses is so crucial for lowering tailpipe emissions and improving municipal air quality.
Kenya has a total installed capacity of 3,321 Megawatts for power generating. The maximum demand is 2,132 Megawatts. But, Kenya Power intends to use the low midnight off-peak demand of 1,100 MW to fuel Kenya's shift to electric vehicles. Geothermal, wind, hydro, and some utility-scale solar contributed around 90% of Kenya's power output in 2021. Kenyan electric vehicles will be charged with highly clean power.