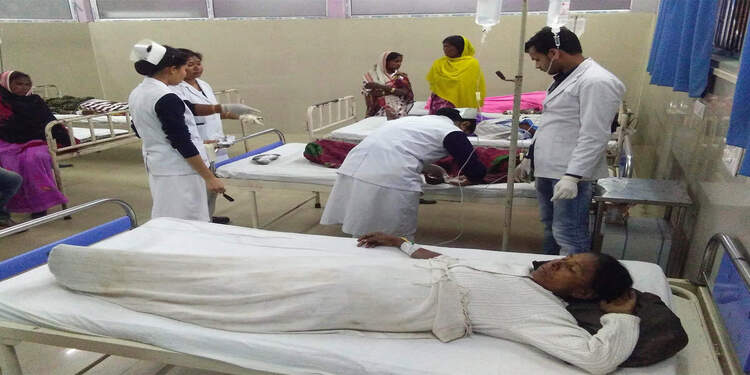 An upcoming report from the international research and consultancy firm Oxford Business Group will outline Ghana's aspirations to modernise its health sector through new collaborations, cutting-edge technology, infrastructural advancements, and regulations intended to increase access to services in rural areas (OBG).
Ghana will highlight the rapidly evolving health ecosystem of the nation and map the amenities and services being offered by both the public and commercial sectors.
Focus will be placed on the significant role that emerging technologies will play in ushering in a new era of healthcare in Ghana.
Additionally, the National Health Insurance Scheme will receive updates. Ghana's efforts to develop the pharmaceutical business by increasing manufacturing output are among the current topics up for analysis.
As it begins work on The Report, OBG has signed a first-ever memorandum of understanding (MoU) with the Africa Medical Information Centre (AMIC). According to the agreement, AMIC and OBG will collaborate to create the report's Health Chapter and other materials for the Group's collection of research tools.
The MoU was signed by Dr. Akshay Rath, Medical Director of AMIC and former UN doctor, and Ramona Tarta, Country Director for Ghana for OBG.
Following the agreement, Dr. Rath commented that OBG was the perfect partner for AMIC given its standing as a go-to source of precise, trustworthy business intelligence for investors looking for undiscovered prospects in developing nations like Ghana and the surrounding area.
Oxford Business Group would be promoting Ghana's health sector's potential, as well as discovering untapped regions for medical research and facilitating end-user access to medical data and information.
According to Tarta, AMIC's choice of Ghana as the location for its headquarters as part of larger plans to modernise healthcare delivery throughout the region was in line with the nation's accelerating revamp of medical facilities and services.
Through a variety of public-private partnerships, including screening initiatives, surgeries, and second opinions for diagnosis, Ghana is poised to benefit from a range of new services and facilities using cutting-edge technology.
The Africa Medical Information Centre has built a wealth of resources, including in-depth, reliable industry data that will definitely benefit our research, as part of its efforts to lead healthcare advancements across the continent. I'm excited that this successful cooperation will benefit our local representatives and, ultimately, investors interested in Ghana's potential.
Dr. Nitish Shetty, CEO of Aster Hospitals, Bangalore, one of AMIC's partners, who was also present at the signing, emphasised the crucial role that AMIC was slated to play in addressing inadequacies and difficulties in the regional healthcare system as well as those in Ghana.
All 30 of our hospitals across seven nations will contribute to the African Medical Information Centre. Our 1500 doctors are pioneers in their disciplines and eager to assist in boosting local capacity by organising exchange and training programmes, the official said.
Along with our stakeholders in Ghana and the rest of the area, our goal is to eventually address the medical difficulties that they confront while establishing this centre as the main hub for medical tourism in Africa.
Financial services Ghana, the Association of Ghana Industries, and other collaborators Leading figures from the public and private sectors, such as Kwaku Agyaman-Manu, the minister of health; Yofi Grant, the CEO of the Ghana Investment Promotion Centre; Ken Ofori-Atta, the minister of finance; Joseph Boahen Aidoo, the CEO of the Ghana Cocoa Board; and Ernest Addison, the governor of the Bank of Ghana, will all contribute to it.
The conclusion of months of investigation by a group of analysts from Oxford Business Group will be Ghana 2023. It will serve as an essential reference for the nation's many facets, such as its macroeconomics, infrastructure, banking, and other sectoral advancements.
It will be a part of a series of specialised studies that OBG is now creating with its collaborators, along with other essential research resources like ESG and Future Readiness reports that are very pertinent.