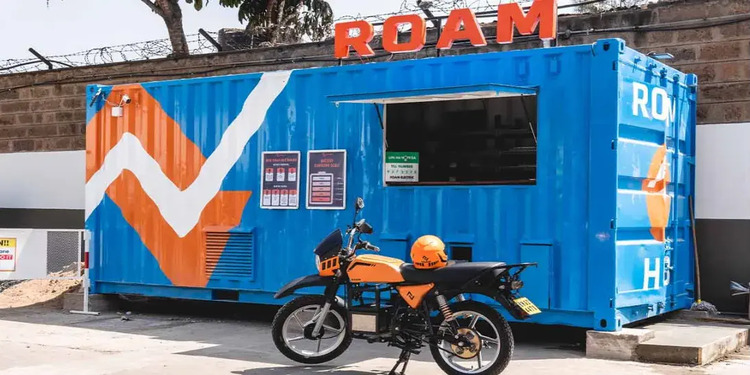 Roam, a technology firm that develops, builds, and installs electric cars for the African continent, opened its first Roam Hub in Nairobi. The Roam Hub is a multi-purpose charging station for electric motorcycles. Though the Roam Air may still be charged at home, the Roam Hub serves as an ecosystem solution for drivers, giving them public access to battery charging and battery rental services as they go about their daily business.
The Roam Hub is uniquely geared to fulfil the expectations of boda-boda operators, who are the backbone of Kenya's motorbike taxi sector. The stations are also stocked with replacement parts and staffed by skilled technicians who can provide maintenance and repair services as needed. In addition to these after-sales services, the Roam Hub locations serve as public access points for technology and software upgrades on the Roam Air, making them one-stop shops for the many requirements that riders may have.
This launch fulfils one of the company's primary aims of providing its clients with a comprehensive and hassle-free riding experience. Total Energies Lusaka Road (the flagship location), Waiyaki Way, and Ngong Road are the Roam Hub charging stations strategically positioned in the centre of bustling metropolitan regions. The establishment of this specialised charging network for electric motorbike riders is a significant step forward in Roam's aim of decarbonizing Kenya's transportation industry.
According to Habib Lukaya, Energy & Charging Product Manager at Roam, "simplifying the charging experience is essential to electric motorcycle adoption and customer satisfaction. We are certain that the boda boda sector will ultimately go electric thanks to this hassle-free charging experience."
It's a historic occasion, said Romain Petiteau, Head of Energy & Charging at Roam, "The introduction of the Roam Hub illustrates our capacity to achieve our electrification and sustainability goals by providing a broad range of charging options. We can alter the future of electric bikes in Kenya thanks to our industry-leading electrification goals"
The company's electric motorbike, the Roam Air, can be fully charged in under an hour at the Roam Hub charging stations thanks to its rapid chargers. The stations are built with an interoperability feature that enables other electric cars from Roam's partners to be serviced at these sites. They are also powered in part by solar energy.
The Roam Hub is the best option for meeting the diverse demands of riders of electric motorcycles since the stations are all-inclusive and offer battery rental, battery charging, and after-sales services.
Roam's approach to the Roam Hub is intriguing and flexible. Electric motorbike operators can therefore choose to own their own battery and have it charged at the Roam Hub, or they can rent a battery, allowing them the option of numerous swaps per day as needed depending on the distance they traverse each day.
Those who own the batteries may charge them at home, and when combined with proper inverters, these batteries can eventually be utilised for additional productive use cases as well as home backup systems during power outages. It's encouraging to see charging infrastructure being built to help Kenya's electric motorbike industry.