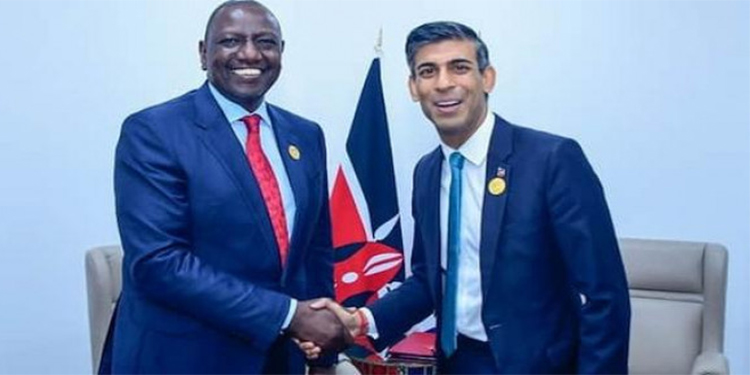 Moses Kuria, the Kenyan Cabinet Secretary for Trade, Investments, and Industry, and Nigel Huddleston, the UK Minister for International Trade, met during the first-ever UK-Kenya Economic Partnership Council Meeting on Tuesday, March 21 in London.
Working with their respective public and private sectors, both parties decided to quicken the process of removing obstacles to bilateral trade and investment. They also spoke about the good progress made on the £3.5 billion in green investment deals that UK Prime Minister Rishi Sunak and President William Ruto agreed to expedite at COP27.
As part of the UK-Kenya Economic Partnership Agreement (EPA), which becomes effective in March 2021, the Economic Partnership Council convenes once every two years.
The deal guarantees that all businesses doing business in Kenya, including British companies, would continue to enjoy duty-free access to the UK market, saving exporters over KES 1.5 billion (£10 million) in annual tariffs on goods including green beans and cut flowers.
The deal increases trading prospects for UK companies while helping Kenya's economy thrive in a sustainable manner. It guarantees jobs for Kenyans while boosting Kenya's international competitiveness, trade potential, and investment-attractiveness. The EPA has facilitated frictionless commerce for some 2,500 UK companies who send goods to Kenya annually. More than 250,000 Kenyans are employed by British enterprises in Kenya.
Kenya, the largest economy in the East African Community, and the UK have signed a trade agreement for the first time outside of Africa. The annual value of bilateral commerce between the UK and Kenya is currently KES 167 billion (£1.1 billion), with room for further expansion.
The EPA supports the ambitious UK-Kenya Strategic Partnership, a five-year agreement that will benefit both Kenya and the UK through the development of jobs and economic growth.
The East African Community, one of the world's fastest-growing regional economic blocs, is a member of the accord, as are all of its member states.
Cabinet Secretary Kuria will meet with Kemi Badenoch, the UK Secretary of State for Business and Trade, during his trip to London.
The meeting is one in a series of UK-Kenya interactions that are strengthening their commercial connections. Construction on Nairobi Railway City has started since President William Ruto and UK Prime Minister Rishi Sunak's agreement at COP27 in December 2022 to expedite KES 500 billion in investment, and Cabinet Secretary for Roads and Transport Kipchumba Murkomen visited London King's Cross Station, a UK example for Nairobi Railway City.
Additionally, on his visit to Kenya in 2022, UK Foreign Secretary James Cleverly announced assistance for the African Development Fund (ADF), which assists African communities in developing their economies, creating jobs, and enhancing healthcare.
As stated by Jane Marriott, the UK High Commissioner to Kenya, "By meeting, as promised, two years following the ratification of the EPA, the UK and Kenya are progressing our shared commitment to securing jobs for Kenyans and expanding our economies – bringing reciprocal advantages for both our countries. Together, Kenya and the UK can accomplish much."