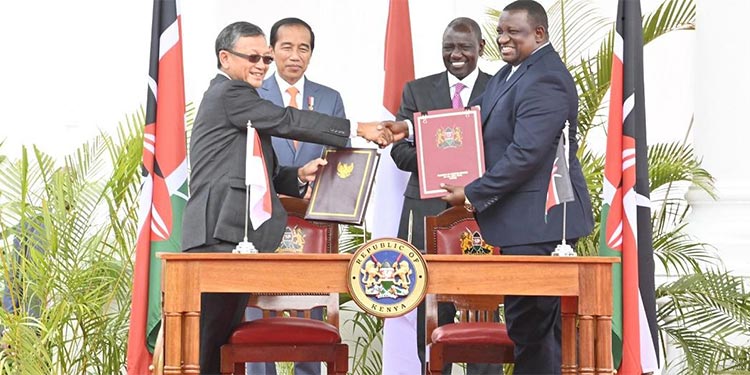 Along with six deals on food security, mining, agriculture, textiles, apparel and renewable energy, Kenya has signed a manufacturing and distribution agreement with Indonesia to modernise its pharmaceutical industry.
Presidents William Ruto and Joko Widodo of Indonesia held bilateral conversations and came to agreements that will enable Kenya's Biovax and Indonesia's BioFarma to collaborate on the production of pharmaceuticals and other vaccinations for simple access between the two nations.
The two companies will examine the marketing of the vaccine portfolio that BioFarma will manufacture in Kenya under the terms of a health memorandum of understanding (MoU).
The government has reportedly committed up to Ksh2 billion ($13.85 million) in the Biovax initiative, whose main goal is to manufacture Covid-19 vaccines and other shots, according to the Health Ministry.
The most recent development arises as Kenya's government pushes for local health product manufacturing to reduce excessive importation and generate employment.
In order to ensure that we build a capacity to manufacture vaccines and other pharmaceutical items for our countries, it is necessary for us to collaborate and include the private sector. President Ruto added, "We should never find ourselves in the situation as we were during the Covid-19 pandemic, lacking the infrastructure to create our own vaccinations.
A MoU was also signed by the Indonesia Food and Drug Authority and the Kenya Pharmacy and Poisons Board to strengthen regulatory coordination for pharmaceutical items.
"Business is open in Kenya. It is essential to consider the ongoing easing and eventual elimination of visa requirements between our two nations as a critical step in this direction". Dr. Ruto claims that Kenya has resolved to grant visa-free entry to all passport holders with diplomatic status.
A cooperation agreement in mining and geology was also signed by the two countries, and it included cooperative studies, knowledge sharing, and capacity building. Investing, trading, and collaboration in both higher and lower level education were other topics they discussed.
According to President Ruto, six more Memorandums of Understanding were signed during this visit between our institutions for trade facilitation in the industries of oil and gas, medicines, edible oils, agriculture, including exports of animals, and clothing manufacturing. To strengthen inter-state cooperation by fostering the commercial relationships that are its backbone.
In addition, the President disclosed that Nairobi and Jakarta were negotiating the specifics of a potential preferential trade pact.
As this is necessary for expanding private sector investment, we also discussed how important it is to establish a bilateral investment pact that will foster an environment that is safe and predictable for investing. We have given our combined teams a 90-day deadline to complete the writing of this agreement.