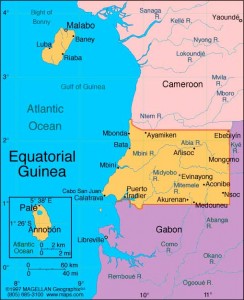 Equatorial Guinea's economy experienced growth of 1.2% of gross domestic product (GDP) in 2010 as a result of the fall of oil output and the main oil-producing fields reaching their maturity. The economy has been on a downward trend since 2004, when real GDP growth peaked at 38%. The year 2010 experienced one of the lowest growth rates since oil exploitation of hydrocarbons began in the mid-1990s. It is expected to recover and return to high growth rates of 5.0% and 7.5% in 2011 and 2012. Despite lower outputs from the oil industry, growth will be sustained by the international demand for hydrocarbons and the construction of major infrastructure projects, including those for the hydrocarbon industry. 
The recovery of oil prices has had a positive effect on the government budget with the deficit reaching 2.6% of GDP in 2010, up from a deficit of 9.6% of GDP in 2009. Driven by falling imports, the current account rose to a surplus of 2.7% of GDP in 2010, compared to a 7.6% deficit in 2009; it is projected to remain in surplus of 2.9% in 2011 and further 3.8% in 2012. The inflation rate for 2010 was 4.7%. As a result of continued high levels of capital expenditure, inflation is expected to remain in the region of 6.3% in 2011. Equatorial Guinea faces no debt problems due to a budget surplus and external reserves. External debt at the end 2010 was close to 5% of GDP, or XAF 307 billion (CFA franc BEAC).
Equatorial Guinea lost its Extractive Industries Transparency Initiative (EITI) candidate status in 2010. The government stated its intention to improve the management of the oil sector and reapply for admission. Furthermore, the environment for private-sector activity remains difficult. Equatorial Guinea still ranks among the bottom countries in the World Bank's Doing Business Index. It slipped three places in the ranking in 2011 to 164 from 161 in 2010. Key constraints include construction permits, import licences, the perceived high level of corruption, elaborate procedures and an unpredictable judicial environment.
Over 70% of the population in Equatorial Guinea falls below the poverty line, raising questions about the extent to which the country's oil wealth has benefitted the majority of the population. Maternal and infant mortality rates are still very high. Measuring progress towards the Millennium Development Goals (MDGs) with precision is an extremely difficult task because of data deficits and an ongoing controversy about the population census. The country is on track to achieve the MDGs of universal primary education, reducing child mortality, improving maternal health, and combating HIV/AIDS, malaria and other diseases. However, it is not on track to achieve the MDGs of ensuring environmental sustainability and promoting gender equality and empowering women.
On the political front, 2010 has been the first year in office of the new cabinet under the same government, which has been in power since 1979. There have been few signs of political opening or change. Tensions have, nevertheless, remitted since the attack on the presidential palace in early 2009. In 2010, a group of four top military and government officials were sentenced to death for their role in these events. The government is trying to pursue an open-door policy to the rest of the world during 2010 with important investments in major events, including hosting the 2011 summit of the African Union and the 2012 Africa Cup of Nations. The plans for a UNESCO-Obiang Nguema Mbasogo award for scientific achievement were put on hold after intense criticism by the international community. The president´s eldest son and current Minister of Agriculture, Teodoro Nguema Obiang Mangue, has continued his ascension to power after being promoted to the rank of Lieutenant Colonel in the army and vice-president of the ruling party.
Oil wealth has attracted the attention of emerging economies in recent years. However, the country remains relatively closed. Equatorial Guinea's main emerging partner is China. There is a small presence of Chinese Taipei, Cuba, Argentina, Brazil and Russia. The country's hydrocarbons industry is still dominated by United States (US) companies but Chinese companies are increasingly active providing significant credit lines. Equatorial Guinea lacks the administrative capacity to engage strategically with the emerging partners.
Figure 1: Real GDP growth (C)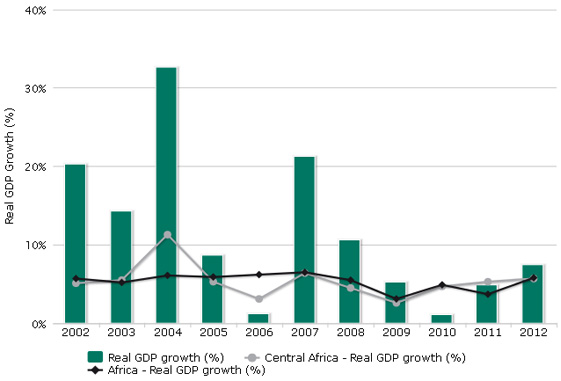 Source:IMF and local authorities' data; estimates and projections based on authors' calculations.
Figures for 2010 are estimates; for 2011 and later are projections.
Table 1: Macroeconomic indicators
| | | | | |
| --- | --- | --- | --- | --- |
| | 2009 | 2010 | 2011 | 2012 |
| Real GDP growth | 5.3 | 1.2 | 5 | 7.5 |
| CPI inflation | 7.2 | 4.7 | 6.3 | 5.6 |
| Budget balance % GDP | -9.6 | -2.6 | -2.8 | -2.7 |
| Current account % GDP | -7.6 | 2.7 | 2.9 | 3.8 |
Source:National authorities' data; estimates and projections based on authors' calculations.
Figures for 2010 are estimates; for 2011 and later are projections.
Table 2: GDP by sector (in percentage)
| | | |
| --- | --- | --- |
| | 2005 | 2009 |
| Agriculture, forestry, fishing & hunting | 2 | 2.4 |
| Agriculture, livestock, fishery, forestry and logging | – | – |
| of which agriculture | – | – |
| of which food crops | – | – |
| Mining and quarrying | 87.7 | 63.8 |
| Mining, manufacturing and utilities | – | – |
| of which oil | – | – |
| Manufacturing | 0.1 | 0.2 |
| of which hydrocarbon | – | – |
| Electricity, gas and water | 5.6 | 22.4 |
| Electricity, water and sewerage | – | – |
| Construction | 1.8 | 7.4 |
| Wholesale and retail trade, hotels and restaurants | 0.9 | 1 |
| of which hotels and restaurants | 0 | 0 |
| Transport, storage and communication | 0.1 | 0.2 |
| Transport and storage, information and communication | – | – |
| Finance, real estate and business services | 0.3 | 0.6 |
| Financial intermediation, real estate services, business and other service activities | – | – |
| General government services | – | – |
| Public administration & defence; social security, education, health & social work | 1.1 | 1.6 |
| Public administration, education, health | – | – |
| Public administration, education, health & other social & personal services | – | – |
| Public administration, education, health & social work, community, social & personal services | – | – |
| Public administration, education, health & social work, community, social services | – | – |
| Other community, social & personal service activities | 0.4 | 0.5 |
| Other services | – | – |
| Gross domestic product at basic prices / factor cost | 100 | 100 |
Source:Authors' estimates based on local authorities data.
Figures for 2010 are estimates; for 2011 and later are projections.
The Equatorial Guinean economy grew by 1.2% of GDP in 2010, compared with 5.3% growth in 2009. The decline was due to acceleration in the fall of hydrocarbon output close to 10% during 2010, compared with a 6% fall in 2009. Oil production, which decreased by 25% as a result of the main production fields reaching maturity, was responsible for the reduction in hydrocarbon production, while the gas sector expanded by almost 35%. Real GDP is expected to grow by 5.0% in 2011 thanks to a recovery of oil prices and a continuing increase in gas production. In 2012, oil production is likely to increase again and GDP is expected to accelerate to 7.5%. Inflation, which has been high by Central African Franc (CFA) zone standards, was 4.7% in 2010, because of higher fuel prices, large public spending and strong private demand. It is forecast to reach 6.3% in 2011 as the economy recovers.
Equatorial Guinea is endowed with a tropical climate and fertile soils, forestry and marine resources. However, the contribution of these sectors to GDP is modest. Agriculture is dominated by subsistence farming. Agricultural products include coffee, cocoa, rice, yams, cassava (tapioca), bananas and palm oil nuts. Livestock and timber are also produced. Rural occupations face labour shortages as workers migrate to Bata on the mainland and Malabo on the island of Bioko. The country claims an exclusive maritime fishing zone of 300 000 square kilometres.
The year 2010 may mark a watershed for the Equatorial Guinean economy, as the government tries to adapt its fiscal policy to a less expansive stage of the oil industry, upon which economic growth has relied in the 2000s. Approximately 92% of fiscal revenues, 99% of exports and 71% of GDP are due to hydrocarbons. The government has continued to state its intention to re-invest some of the oil revenue in the agriculture and the fisheries sectors as part of its diversification strategy and to reduce the dependence on imported foodstuffs, but little progress was evident during 2010.
Outside the energy sector, the construction sector has been the main engine of growth, though its dynamism is likely to moderate in 2011 as public investment projects are cut back. The construction sector, which accounted for 7.4% of GDP in 2009, has been expanding rapidly in the 2000s as a result of the oil sector and large-scale public investment in infrastructure, notably the construction of roads, the rehabilitation of airports, the expansion of ports and the development of Malabo II.
According to government sources, 2010 marks the end of a phase in the development of Equatorial Guinea, in the sense that the emphasis on large infrastructure projects is coming to an end, and the government is turning towards other sectors for investment in the future. The upgrading of human capital is crucial to prioritise new sectors. Shortages of skilled labour in several key sectors such as health (e.g. hospitals), education (especially universities), construction and oil and gas (especially hydrocarbons) are readily apparent. Consumption increased by 7.5% in real terms in 2010, driven by an increase in public consumption of 11.6% compared with an increase of 6.1% in private consumption. Investment decreased by 2.7% in real terms in 2010, mainly as a result of the contraction of public investment.
An enduring controversy regarding population data remains an issue in Equatorial Guinea; population data affect the reliability of many economic and social statistics. There is a major discrepancy between government population statistics and those of development partners. Estimates from the United Nations Population Division put the population at 693 000 in 2010, a figure adopted by most international institutions, including the World Bank and the International Monetary Fund (IMF). However, the government claims that a 2002 census recorded a population of a little over 1 million. The government explains the discrepancy as largely due to the influx of migrants, drawn to Equatorial Guinea principally from neighbouring countries by the oil boom and the expectation of better jobs and prospects. A difference of such a large magnitude has an enormous impact on variables expressed as a percentage of population. This affects the measurement of economic and social progress and complicates making informed policy decisions. The government has declared its commitment to resolve the controversy regarding the population data with a new census and a household expenditure survey in 2011.
Table 3: Demand composition
Percentage of GDP (current price)
Percentage changes, volume
Contribution to real GDP growth
2002
2009
2010
2011
2012
2010
2011
2012
Gross capital formation
31.8
69.5
-2.7
4.5
2.3
-2.7
4.5
2.3
Public
8.7
51.9
-10
3
2
-7.6
2
1.3
Private
23.1
17.6
19
8
3
4.9
2.4
0.9
Consumption
19.4
12.5
7.5
7.7
4.1
1.9
2.1
1.2
Public
5.3
4.7
11.6
11.1
4.3
0.8
0.9
0.3
Private
14.1
7.8
6.1
6.4
4
1.1
1.3
0.8
External sector
48.8
18
–
–
–
2
-1.6
4.1
Exports
102.7
89.4
0.3
2.2
3.9
0.6
4.7
8.2
Imports
-53.9
-71.4
-0.6
2.7
1.7
1.4
-6.4
-4
Real GDP growth rate
–
–
–
–
–
1.2
5
7.5
Source: Data from national authorities, IMF and BEAC; estimates (e) and projections (p) based on authors' calculations.
Figures for 2010 are estimates; for 2011 and later are projections.
Fiscal Policy
Economic policy in Equatorial Guinea is guided by the government's medium-term strategy paper, the National Economic Development Plan: Horizon 2020, which seeks to reduce poverty and diversify the economy. The government embraced this ambitious plan to make Equatorial Guinea reach the status of an emerging economy by 2020. Although the objective is clearly defined, the real challenge has to do with the degree to which the strategy is implementable and actionable. Major structural deficiencies need to be addressed if the country is to consolidate its undeniable economic progress over the last decade and reach a path of sustainable growth.
The overall fiscal balance increased from a deficit of 9.6% of GDP in 2009 to 2.6% deficit in 2010, largely thanks to a recovery of hydrocarbon revenues and a significant reduction in government spending. The budget has grown substantially in the 2000s as royalties and taxes on oil and gas production have provided new resources. Balancing the budget has been a major challenge in 2010 and will remain so in 2011. If the budget follows the current trajectory the fiscal balance deficit could reach 2.8% of GDP in 2011 and 2.7% of GDP in 2012.
Hydrocarbons account for approximately 92% of government revenue, making government revenues volatile to both field production levels and shifts in international oil and gas market prices. In 2010, the value of oil exports increased from XAF 3 149.8 million (CFA Franc BEAC) to XAF 3916.4 million – a 24% increase – as a result of rising oil prices. Moreover, increased revenues from growing liquid gas production have partially compensated for the decline of oil production.
Value added and trade taxes are other revenue sources for the government. Total revenue and grants are projected at 47.1% of GDP in 2011, slightly down from 51.2% in 2010. A large proportion of non-oil revenues are derived from the returns on the country's assets deposited at the regional central bank, the Banque des Etats de l'Afrique Centrale (BEAC), and in foreign banks. Non-oil revenue decreased from 3.8% of GDP in 2009 to 3.5% in 2010. Total government expenditure (including net lending) was 48.9% of GDP in 2010. It is projected to decrease to 48.3% of GDP in 2011 and 47.6% in 2012. Such high levels of fiscal spending that began in 2009 have been due to the government's ambitious public investment programme. Despite intentions to rein in physical capital investment, particularly road-building and preparations for several international events due to be held in Equatorial Guinea during 2011-12, major projects will continue to constitute a significant drain on public finances. 
Since the mid-2000s, the government has been depositing some of its fiscal savings into a fund for future generations at the BEAC. External debt at the end of 2010 was 5% of GDP. A low debt ratio, large foreign reserves and forecast exports of over 80% of GDP suggest that debt sustainability is not likely to pose a major threat in the coming years. However, the country does still require technical assistance in managing its still large oil resources and the revenues they generate in order to optimise developmental outcomes.
Table 4: Public finances (percentage of GDP)
| | | | | | | | |
| --- | --- | --- | --- | --- | --- | --- | --- |
| | 2002 | 2007 | 2008 | 2009 | 2010 | 2011 | 2012 |
| Total revenue and grants | 28.5 | 44.4 | 45.6 | 49.5 | 46.3 | 45.5 | 44.9 |
| Tax revenue | 2.6 | 1.4 | 1.1 | 2.2 | 2 | 1.9 | 1.9 |
| Oil revenue | 24.9 | 40.4 | 43.1 | 45.8 | 42.9 | 42.2 | 41.7 |
| Grants | – | – | – | – | – | – | – |
| Other revenues | 1 | 2.7 | 1.5 | 1.6 | 1.5 | 1.4 | 1.4 |
| Total expenditure and net lending (a) | 15.6 | 23.7 | 26.3 | 59.1 | 48.9 | 48.3 | 47.6 |
| Current expenditure | 6.9 | 4.1 | 5.5 | 7.2 | 7.5 | 8.1 | 8.3 |
| Excluding interest | 6.6 | 4.1 | 5.5 | 7.1 | 7.4 | 8.1 | 8.2 |
| Wages and salaries | 1.8 | 1 | 0.8 | 1.5 | 1.4 | 1.4 | 1.4 |
| Goods and services | 3.5 | 1.6 | 2.1 | 3.2 | 3.5 | 3.8 | 3.8 |
| Interest | 0.3 | 0 | 0 | 0.1 | 0 | 0 | 0 |
| Capital expenditure | 8.7 | 19.6 | 20.8 | 51.9 | 41.5 | 40.2 | 39.4 |
| Primary balance | 13.1 | 20.7 | 19.4 | -9.5 | -2.6 | -2.8 | -2.7 |
| Overall balance | 12.9 | 20.7 | 19.3 | -9.6 | -2.6 | -2.8 | -2.7 |
a. Only major items are reported.
Source:Data from national authorities and BEAC; estimates (e) and projections (p) based on authors' calculations.
Figures for 2010 are estimates; for 2011 and later are projections.
Monetary Policy
Equatorial Guinea has, since 1985, been a member of the Economic and Monetary Community of Central African States (CEMAC). Monetary policy is determined by the regional central bank, the BEAC. The BEAC fixes minimum interest rates for bank deposit loans, provides member countries with statutory financing, sets minimum reserve requirements for commercial banks and issues the CFA franc BEAC, which is the common currency used by CEMAC countries.
The BEAC has adopted the control of inflation as its primary objective. For a country which has been in such a remarkable expansive stage over the last decade, inflation has remained moderate. As a result of continued high levels of capital expenditure, inflation reached 7.2% in 2009 but during 2010 it fell to 4.7%. As the economy recovers in 2011, inflation is expected to increase to 6.7% and it is forecast to slow down to 5.6% in 2012. However, because interest rates are currently being set by the BEAC at around 2%, this does imply negative real interest rates, which could result in speculation and a drag on savings.
The XAF is pegged to the euro as part of the institutional arrangements for the monetary union. Since January 1999, the peg has been at the rate of XAF 656 per euro and it is likely to remain at this rate during the forecast period. The XAF will therefore fluctuate against the US dollar in line with the exchange rate between the dollar and the euro. A weaker euro in 2011, due to persistent concerns about debt default and the break-up of the euro area, will help to mitigate inflationary pressures. Lucas Abaga Nchama of Equatorial Guinea was appointed as the governor of the BEAC in early 2010.
In recent years, the financial system has been introducing new technologies and products such as study loans and consumption credit. However, it is still mostly a business of stock financing and international money transfers. The most important commercial bank in Equatorial Guinea is Societé Générale, which is jointly owned by the President Teodoro Obiang Nguema Mbasago and Societé Générale France. In Equatorial Guinea, the rate of banking penetration is relatively low but increasing. Approximately 8% of the population has a bank account. This percentage is much higher among civil servants, who can only be paid through transfers to their accounts. Competition in the sector is limited. Measures are required to further increase competition in the financial sector. The differential between lending and deposit rates, while still very large, has been falling. In 2010, the differential was approximately 10%, compared with 17% in the 1997-2000 period.
External Position
Exports declined in 2010, due principally to falls in the volume of production of hydrocarbons. As a resource-rich country, the economy of Equatorial Guinea depends largely on exports of hydrocarbons. Traditional exports, such as tropical woods and cacao, have been reduced to insignificant proportions of total exports by the boom in hydrocarbon exports. The US is the main destination of exports, followed by the European Union (EU), China and Japan. The concentration of exports in hydrocarbon products renders the external sector highly vulnerable to oil and gas price volatility.
The country continues to have an extremely high import propensity in almost all sectors. The most problematic from a strategic point of view is the dependence on food imports, which constitute roughly 10% of total imports. Policies are required to re-invigorate agriculture sector development. Agricultural inputs are exceptionally expensive and government pricing policy arguably provides a disincentive to production through the setting of excessively low prices for farmers. More widely, exemptions on tariff imports are widespread and reportedly applied on an arbitrary basis.
The decline in imports in 2010 was larger than the fall in exports, leading to a trade surplus of 43.3% of GDP. The balance of payments tends to record high trade balance surpluses, large negative factor incomes due to repatriation of profits by foreign companies in the hydrocarbon sector and deficits in the service balance. The deficit in the service balance decreased, but as the outflows of factor income increased mildly, the current account balance obtained a surplus, equivalent to 1.3% of GDP. In 2011, exports are projected to rise again owing to higher oil and gas prices while imports – comprising mainly petroleum sector equipment, petroleum products, food and manufactured goods – are forecast to fall.
In 2010, registered Foreign Direct Investment (FDI) continued its recovery from the decline experienced as a result of the global economic crises reaching USD 670 million. Expected FDI in 2011 and 2012 will be around USD 750 million. The main targets of FDI continue to be the oil and gas industry, but there are also considerable foreign investments in other sectors, such as construction.
The government has set aside proposals regarding the possibility of setting up a sovereign wealth fund in 2010, against the backdrop of the less favourable fiscal situation that is developing. However, as a long-term measure for smoothing out the economic cycle and dampening excessive investment, it is a measure that should be reconsidered. Equatorial Guinea faces challenges to effectively manage and obtain adequate returns from the government's large and diversified portfolio of assets generated by the oil boom. The returns on its deposits abroad are extremely low. A more concerted strategy of placing government savings in higher interest bearing instruments should be considered.
A persistent concern for authorities has been the possible "Dutch disease" effects of the oil boom – the situation wherein a boom in the natural resource sector leads to an appreciation of the real exchange rate, hurting the export potential of other productive sectors. The rapid boom in the oil sector in Equatorial Guinea has led to a substantial appreciation of the real effective exchange rate over the past decade, which might have had a subsequent negative impact on all other productive sectors such as cacao, the main export prior to the oil boom, or timber, now the main export commodity after oil and gas. Given that Equatorial Guinea belongs to the CEMAC monetary union characterised by a fixed exchange rate to the euro and the significant weakening euro during 2010, it is possible that real exchange rate tensions will moderate in 2011.
Table 5: Current account (percentage of GDP)
| | | | | | | | |
| --- | --- | --- | --- | --- | --- | --- | --- |
| | 2002 | 2007 | 2008 | 2009 | 2010 | 2011 | 2012 |
| Trade balance | 77.1 | 68.7 | 76.6 | 37.5 | 44.2 | 43.8 | 44 |
| Exports of goods (f.o.b.) | 101.4 | 94.2 | 101.8 | 89 | 88.3 | 85.8 | 84.5 |
| Imports of goods (f.o.b.) | 24.3 | 25.5 | 25.2 | 51.4 | 44.1 | 42 | 40.5 |
| Services | -28.3 | -10.1 | -10.8 | -15.9 | -12.3 | -12.2 | -11.4 |
| Factor income | -61.8 | -57.1 | -55 | -28.5 | -28.5 | -28 | -28.2 |
| Current transfers | -0.5 | -0.4 | -0.4 | -0.7 | -0.7 | -0.7 | -0.6 |
| Current account balance | -13.5 | 1.1 | 10.4 | -7.6 | 2.7 | 2.9 | 3.8 |
Source: Data from national authorities and BEAC; estimates (e) and projections (p) based on authors' calculations.
Figures for 2010 are estimates; for 2011 and later are projections.
Figure 2: Stock of total external debt (percentage of GDP) and debt service (percentage of exports of goods and services)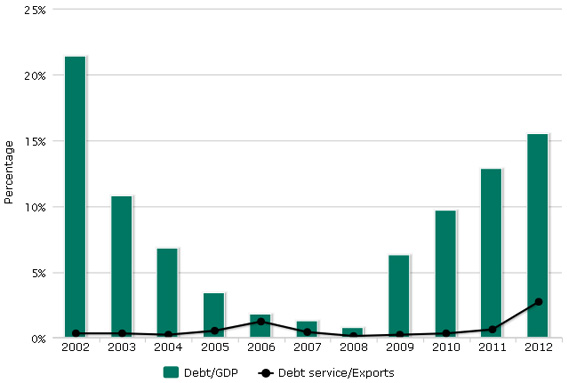 Source:IMF and local authorities' data; estimates and projections based on authors' calculations.
Figures for 2010 are estimates; for 2011 and later are projections.
Private Sector Development
The business environment in Equatorial Guinea remains challenging. The World Bank Doing Business index suggests that it deteriorated in 2010. Equatorial Guinea ranked 164 out of 183 countries in 2011 compared with 161 out of 180 in 2010. The constraints to doing business have tightened up regarding the lack of regulatory quality, the economic freedom and the perceived high level of corruption. The ranking improved, however, in two indicators: paying taxes and trading across countries.
Limited financing for small- and medium-sized businesses, poor labour skills and the high cost of imported goods also deters private sector development. Domestic investment is dominated by public investment, mostly in the hydrocarbons and construction sectors. A key issue is the extent to which public investment may be complementing or crowding out private investment.
During 2010, the government has prioritised the establishment of an efficient system of commercial arbitration as part of its strategy to promote private sector development. Investors still report considerable difficulties in doing business in Equatorial Guinea due to a weak judicial system, cumbersome institutional procedures, a lack of clarity on how key laws are applied, the arbitrary nature of the rules and regulations surrounding the establishment of businesses, the payment of taxes and legal status in the country.
Hampered by the small size of the domestic market, monopolies remain a problem in some sectors. Despite Equatorial Guinea's large oil reserves and output, the country has no petroleum refinery. It imports all of its refined petroleum products from Europe, which are sold at subsidised prices set by the government. The French company Total has a monopoly on the supply of carburant to the domestic market, though this is being opened up to competition in 2011 with the entry of the Guinea Ecuatorial Petróleos (GEPetrol) into the market. A monopoly also exists in the import of cement.
Tackling the extremely adverse business environment requires more attention on the part of the government. There are major constraints in relation to construction permits, time and costs to build commercial structures, including obtaining necessary licences and permits, completing required notifications and inspections and obtaining utility connections. The fact that construction permits have been increasingly hard to obtain may reflect the government's wish to quell the expansion of this sector – though there are probably better ways of achieving such a goal.
Other Recent Developments
Equatorial Guinea faces important public-sector challenges. The authorities manage a very large and diversified portfolio of assets, which includes reserves in BEAC, offshore assets and shares in private corporations. However, the current managerial capacity of the country is challenged to effectively manage these resources. For example, concerns increased during 2010 that the country's assets in foreign banks, mostly in Commerzbank in Germany, generate relatively low returns. The need for transparency and accountability in the management of the revenues and the assets are also important issues that deserve attention in 2011.
The government is the main investor in the non-oil economy and has a more modest role in the oil economy. In 2010, the government increased its share in Guinea Equatorial Telecommunications (GETESA) from 60% to 70%, which provides fixed-line, Internet access and mobile telephone services. The remaining 30% is owned by France Telecom. The poor service record and mismanagement attributed to the French company motivated the decision to increase government shareholdings in GETESA. In 2011, the government will consider transferring the entire operations of GETESA to an independent agency not subject to French or Equatorial Guinean political interests. The public project of laying submarine fibre optic cable that will connect the two main cities of the country, Malabo and Bata, continued to be carried out during 2010 and it is likely to be completed in 2012.
The government approves electricity tariffs, which are heavily subsidised. Equatorial Guinea also has a 62% stake in the national electricity provider, Sociedad de Guinea Ecuatorial (SEGESA). The company is still suffering financial difficulties with an electricity grid in need of upgrading. Illegal connections are widespread in the country and as a result, power supply is unreliable. The project to modernise the electricity grid continued during 2010. SEGESA has recently implemented a new customer service that has reduced waiting times for clients to be connected.
The public sector, through the national oil company GEPetrol, is a key investor in the hydrocarbon sector. The government has been investing massively in infrastructure in recent years. The human and institutional requirements to efficiently undertake these activities present a significant load on Equatorial Guinea's public sector.
The perception of widespread corruption in Equatorial Guinea remains a major issue. The country ranked 168 (jointly with Angola) out of 178 countries in 2010 on the Corruption Perception Index of Transparency International. It ranked 151 out of 163 in 2006. The main corruption case in court in 2010 was the one against a group of ex-employees of GETESA for a crime of misappropriation.
Sound management of Equatorial Guinea's vast oil and gas resources is crucial to reducing poverty and promoting human development. The perceived high level of corruption and lack of transparency in the management of the resources in the hydrocarbons sector has affected the country's attempts to join the EITI, initiated in September 2007. The EITI seeks to promote good governance in the management of natural resources by requiring resource extraction firms to publish what they pay to government and the latter what it receives from firms. Compliant countries are those deemed by the EITI as meeting its standards.
In April 2010 Equatorial Guinea lost its candidate status with the EITI after failing to meet the criteria to be validated as a compliant country. This happened after applying in March 2010 for an extension of the deadline to complete the EITI validation process. The EITI board did not approve the request but allowed Equatorial Guinea to reapply for EITI candidate country status once the barriers to effective implementation have been addressed. The government said that it would improve management of the oil sector and then apply for readmission; however progress to meet the criteria has been slow.
Equatorial Guinea comprises a mainland and five inhabited islands. Malabo, the national capital, is located on the island of Bioko. While the country is one of the smallest in Africa with an area of just over 28 000 square kilometres, its geographical structure poses infrastructural challenges of connecting the different parts of the country. However, the country's infrastructure, once very poor, has been improving in recent years thanks to a large infrastructure development plan financed with oil resources.
According to government sources, 2010 marked the end of a phase in the development of Equatorial Guinea, in the sense that the emphasis on large infrastructure projects is coming to an end, and the government is turning towards other sectors for investment in the future. Chief amongst the new sectoral priorities is the upgrading of human capital. Qualified labour shortages in certain key sectors are readily apparent, such as in health and construction.
Despite intentions to rein in human capital investment, major projects, particularly road building and preparations for several international events due to be held in Equatorial Guinea during 2011-12, continued during 2010. Major infrastructure projects carry on apace. All major roads are being upgraded. Ports and airports have also been expanded and upgraded. The government is upgrading and paving urban roads in Malabo and installing a completely new sewerage system. Malabo II has continued to grow during 2010 and has already turned into almost an entirely new city next to the capital.
As a major event, Equatorial Guinea will also be hosting the 2011 African Union Summit of Heads of State, for which important real estate developments are under way. A few kilometres south-west of Malabo, Sipopo is under construction. It consists of 52 luxury villas for all heads of state and government attending the summit, a large conference hall, a four kilometre-long seafront promenade and a five-star hotel with 200 rooms. A 120-bed hospital and a motorway linking the site to Malabo are also expected to be completed in early 2011.
Equatorial Guinea has been chosen to co-host the 2012 Africa Cup of Nations football tournament in partnership with Gabon. Two stadiums are being upgraded to the International Federation of Association Football (Fédération Internationale de Football Association – FIFA) standards for the event, one in Bata with a capacity of 45 000 and another in Malabo, with a capacity of 16 000. The Confederation of African Football announced in 2010 that Gabon will host the final while Equatorial Guinea will host the opening game. Most of the infrastructure developed for the African Union summit in 2011 will also be used for the Africa Cup. But despite possible synergies, hosting two major continental events in the next two years will entail substantial government expenditures.
The country has two international airports, one in Malabo and the other in Bata (on the mainland), and five domestic airports. Air traffic has soared since the mid-1990s as a result of the growth in the petroleum industry. Iberia, Air France, Lufthansa and Air Europa offer regular flights to Europe. Discussions will be under way in 2011 to increase the number of airlines operating in Equatorial Guinea.
To celebrate the 42nd anniversary of independence, an airport and a port were inaugurated on the Island of Annobon in October 2010. The Moroccan civil engineering company Somagec developed the new port, which opens the island for trade. Totalling an overall investment of approximately EUR 100 million, this new infrastructure allows for large tonnage ships and passenger ferries. The airport, which Somagec has renovated and enlarged, now has an extended runway of about 600 metres.
The government has prioritised the improvement of infrastructure linked to the oil industry in the past decade. This fact explains that Equatorial Guinea has two of the deepest Atlantic seaports of the region, including the main business and commercial port city of Bata. The government hopes that the port of Luba, 45 kilometres from Malabo, will become a major transport hub for offshore oil and gas companies operating in the Gulf of Guinea in the coming years. The expansion of the country's two other ports in Malabo and Bata continued during 2010.
In 2010, Equatorial Guinea signed a construction and maintenance agreement with the submarine cable consortium Africa Coast to Europe (ACE) for a 7 000 kilometre-long fibre optic cable stretching from France to South Africa that should be operational in 2012. This will be the first international submarine cable to connect Equatorial Guinea and will improve the connectivity of the country to international telecom networks. Mobile telephony has continued to spread during 2010. Almost 66% of the population subscribes to a mobile telephone service while only 1.5% of the population has access to fixed-line telephony. Information and communication technology remains relatively undeveloped.
Equatorial Guinea is estimated to have 2 600 megawatts (MW) of hydropower potential. The country is making an effort to diversify its energy resources and improve electrification nationwide. The country is building the 120 MW Djibloho hydroelectric plant on the continent, near the city of Añisok. The Chinese company, Sinohydro Corporation, began construction in 2008 and the first phase is scheduled to be delivered in November 2011. A 220 kilovolt (kV) substation is being built in conjunction with the power station to supply electricity to the mainland region. This project is funded entirely by Equatorial Guinea.
There are problems with the water supply, which is not continuous, even in Malabo. Potable water is available in the major towns but is not always reliable because of poor maintenance and ageing infrastructure; consequently, supply interruptions are frequent and prolonged in some neighbourhoods. A major project upgrading the public water system is under way. Some villages and rural areas are equipped with generators and water pumps owned by private individuals.
Equatorial Guinea's maritime boundaries contain substantial oil and gas reserves. The country was the seventh largest oil producer in Africa in early 2010. Equatorial Guinea's national oil company, GEPetrol, is responsible for the country's downstream oil-sector activities. However, since 2001, its primary focus has become managing the government's interests in various production sharing contracts (PSCs) with foreign oil companies. GEPetrol also partners with foreign firms to undertake exploration projects and has input into the country's environmental policy implementation. In its recent block-licensing negotiations, Equatorial Guinea has pursued increases in the government's share in new PSCs.
Equatorial Guinea's oil wells should produce about 318 000 barrels per day (b/d) during 2010 and another 100 000 b/d are due to come on stream by 2012. Russia's Gazprom Neft signed production-sharing deals with the government in September 2010 for two oil blocks, while Afex agreed on an exploration deal in May. In September 2010, the government selected the US-based construction company KBR to build the 200 000 b/d mini refinery, which should cost USD 422 million and be completed by 2013. Oil reserves are estimated at 1.7 billion barrels while gas reserves are estimated at 4.5 trillion cubic feet. The country's hydrocarbons industry is dominated by US companies but Chinese companies, providing significant credit lines, are gaining influence. The government has announced plans to focus on the gas industry as oil production stagnates. While some forecasts suggest that the oil reserves will be depleted by 2030 other industry sources suggest this is a low estimate.
Gas production is processed as condensate, liquefied petroleum gas, methanol and liquefied natural gas (LNG). The role of oil and gas in the Equatorial Guinean economy will expand in the coming years. In May 2010, the mining ministry said that there was three times as much natural gas in the country as expected, raising reserve levels to more than 4.5 trillion cubic feet. This new information led the government to rethink plans to build a methanol plant. Instead, it is backing the construction of a second LNG train. Equatorial Guinea sees the natural gas sector as a key part of its economic diversification strategy. The government is working with Germany's E.ON Ruhrgas, Portugal's Galp Energia and Spain's Union Fenosa to double gas exports by 2015.
Unexploited natural resources include titanium, iron ore, manganese, uranium and alluvial gold. After years of fits and starts in the mining sector, the government signed a new contract in mid-2010 to develop potentially lucrative gold, iron and bauxite projects on the mainland. In June, it awarded a Canadian firm, Sillenger Exploration, a natural resources development company, the rights to claim vast swathes of territory for oil and mining projects in exchange for mapping the country's mineral potential.
A key issue in the early stages of natural resource development is the institutional capacity to manage vast hydrocarbon resources. The initial contract terms between Equatorial Guinea and foreign companies exploiting the resources were generally perceived to favour the companies disproportionally. However, this situation has now been addressed and Equatorial Guinea has signed revised contracts similar to countries in comparable situations.
Equatorial Guinea remains a relatively closed country; its main emerging partner is China. While there are minor presences of a few firms from a handful of countries, these are mainly project based with the focus on construction. There is a small presence of Chinese Taipei, Cuba, Argentina and Russia. The composition of emerging partners present in Equatorial Guinea corresponds to the map of diplomatic representations in the country. Equatorial Guinea has diplomatic representations in Argentina, Brazil, Russia and, as of 2010, Venezuela. The network of embassies in traditional partner countries includes Spain, the United States, France and the United Kingdom. There are foreign representations in Malabo of China, Cuba, Spain, France, Morocco and South Africa.
The country's oil wealth has attracted the attention of emerging economies in recent years. Although US companies still dominate the country's hydrocarbons industry, Chinese companies are increasingly active providing significant credit lines. So far, Chinese companies are increasing their influence but obtaining little return in terms of oil.
Chinese engagement is characterised by commitments to deliver projects "key in hand" and are further notable in that projects are normally completed faster than those undertaken by traditional partners. Hence, China is perceived as a more reliable partner, although it tends to import all construction materials, technical staff and workers rendering short-term economic gain negligible. It is mainly engaging in the areas of public works and infrastructure – projects undertaken for long-term economic benefits. In the 2000s, China has built hospitals, a sports stadium, port expansions, as well as the new ministries and other government buildings in Malabo II. China is not only present in big infrastructure works. Chinese entrepreneurs are gradually increasing their presence in retail business operations and import/export activities. They are also developing the market for their accessible consumer products, including furniture and spare parts. China has a long history in Equatorial Guinea. The Chinese company Sinohydro, which has important operations in other parts of Africa, is responsible for one of the largest civil engineering projects in the country: the construction of the Djibloho hydroelectric power plant, which is to be completed in 2011. A Chinese company is also building the conference hall for the 2011 summit of the African Union.
At the bilateral level, the IMF documents two examples of China-Equatorial Guinea loans on a concessional and a non-concessional basis. China extended a USD 2 billion non-concessional credit line to Equatorial Guinea in 2006. The loans were earmarked for infrastructure (four projects in electrification and improvements to Bata harbour). The terms of the loan consisted of an interest rate of 5.5%, five years maturity with a two-year grace period and a repayment guarantee in the form of liquid deposits at the Eximbank of China equivalent to 30% of the outstanding stock of debt was required. According to the IMF, the Chinese government is reported to have extended an offer for a USD 380 million long-term concessional loan for housing construction (17 years maturity, a 2-year grace period and a 2% interest rate).
While the government welcomes the ease of doing business with the Chinese, some civil servants are becoming increasingly concerned with two issues. First, the limited spin-off and/or multiplier effects of Chinese projects on the national demand for goods and services. Second, the quality of some of the projects executed could have been much higher. The latter issue is being addressed with trilateral co-operation approaches in which a company from a traditional partner takes care of the quality control. For example, a Chinese firm is installing a completely new sewerage system in the capital, while a Spanish engineering company is testing the infrastructure against international safety and quality standards.
Other emerging partners are slowly gaining importance, but remain far behind China. In 2010, Gazprom Neft, the oil arm of the Russian gas giant Gazprom, signed a production sharing agreement for two offshore oil blocks in Equatorial Guinea totalling an investment of USD 3 billion over the next 30 years. In 2008, the government awarded a second mobile telephone licence to Hist Telecom of Saudi Arabia. There has been some interest from Turkey and Argentina to sign agreements to foster trade exchanges and increase the security of investments. However, the volume of trade flows between Equatorial Guinea and Turkey reached a meagre USD 20 million during 2010 and the trade exchanges with Argentina are almost negligible. Cuba has traditionally dispatched teams of doctors for training and assistance. The Israeli firm International Medical Service (IMS) is building a 120-bed hospital outside Malabo.
Emerging partners from Africa include Morocco, Egypt and Libya. There has been a Moroccan presence since 2007 with the arrival of Maroc Telecom and the civil engineering company, Somagec, which built the airport and port facility in Annobon in 2010. The Egyptian company, Arab Contractors, is responsible for the building of the motorway and the promenade between Malabo and Sipopo. The Libyan  firm, Seguibatand, won the contract to build the villas where the heads of state will be hosted during the summit of the African Union.
President Teodoro Obiang Nguema Mbasogo maintains very close relations with some traditional partners, especially France. The French Group Bouygues, with close connections to the entourage of the president, remains the lead construction firm active in Equatorial Guinea. It was commissioned to build the luxury hotel and accompanying 18-hole golf course for the African Union Summit, which is to be delivered in March 2011. The presence of Spanish firms is particularly evident in the food and distribution sectors; however, the inputs for these activities come from imports rather than local suppliers.
Equatorial Guinea lacks the administrative capacity to engage strategically with its emerging partners. In other words, it does not negotiate terms that provide economic stimulus – using local materials and workers for example. Furthermore, the government does not have a plan to prioritise its engagement strategy with emerging partners through assessing their relative benefits for things like job or market creation. Equatorial Guinea would benefit from peer learning and exchanging best practices at the regional and African level; both of these need to be promoted to reap the greatest benefits from traditional and emerging development partners. The capacity of civil servants dealing with emerging partners still needs improvement. Although it is relatively common for civil servants at director-general level to be able to express themselves correctly in Chinese and carry out their negotiations in Chinese, the capacity of civil servants in all of their interactions and negotiations with all emerging partners needs improvement. Without the incentives or knowledge to enhance capacity and to engage strategically with emerging partners, Equatorial Guinea will continue to miss development opportunities.
Equatorial Guinea formally has a multiparty system of government with an executive president and a single-chamber legislature. Presidential elections are held every seven years and parliamentary elections every five years. President Teodoro Obiang Nguema Mbasogo has been in power since 1979 and is the second longest serving African president after President Muammar Gaddafi. In the latest presidential elections in November 2009 he won 99 seats in the 100-seat parliament with 96.7% of the votes. The ruling Partido Democrático de Guinea Ecuatorial (PDGE) also has an overwhelming majority in all 30 municipalities. The results were disputed by the opposition, which won the one remaining seat in parliament. The conditions imposed by the government on international observers were severely criticised for not permitting them to carry out an independent monitoring function. The next parliamentary elections are due to be held in 2014.
In January 2010, President Obiang Nguema Mbasogo named a new cabinet, fulfilling a constitutional requirement to form a new government after a presidential election. The new cabinet, comprising 26 ministers, was 50% larger in size than the previous cabinet. Over the course of 2010 the new government has shown few signs of political opening or weakness. Tensions have nevertheless declined somewhat since the attack on the presidential palace in early 2009. In 2010, four top officials were sentenced to death for their role in these events while several Nigerians were sentenced to long prison sentences. The death sentences were carried out shortly after they were announced by the military tribunal.
According to the BBC, the government closely controls Equatorial Guinea's media outlets and there are few private publications. The country went down in its ranking to 167 out of 178 countries in the 2010 Reporters Without Borders' Press Freedom Index (it ranked 158 out of 175 countries in 2009).
In June 2010, the president announced a series of reforms targeting the culture of corruption and mismanagement. Partial evidence of a minor shift in the government's tolerance of widespread corruption can be detected in a court case in December 2010 of several high-level civil servants accused of embezzlement. Whether this marks a true departure from past practice, or is purely symbolic, remains to be seen in the coming years.
In the absence of a truly participative democratic system, concerns are already being voiced about the future stability of the current regime. The president is now 68 years old and the rumours about his health are intensifying. He has made it known he favours his eldest son, Teodoro Nguema Obiang Mangue, as his successor for eventually taking over power. "Little Teodoro", as he is known in Equatorial Guinea, is the current Minister of Agriculture and Forestry. In July 2010, he was designated vice-president of the ruling PDGE and vice-president of the Juventudes del Partido Democrático de Guinea Ecuatorial. In October 2010, he was promoted to the rank of Lieutenant Colonel in the armed forces.
The government is trying to improve perceptions of legitimacy by pursuing a more open-door policy to the rest of the world. For example, in 2008, President Obiang Nguema Mbasogo donated USD 3 million for the United Nations Educational, Scientific and Cultural Organization (UNESCO) to sponsor an annual Unesco-Obiang Nguema Mbasogo international prize for research in the life sciences. In June 2010, however, UNESCO postponed the plans after heavy criticism by the international community. The UNESCO executive board stayed the decision to suspend the award in October 2010 until consensus by all member countries can be reached.
Equatorial Guinea recorded one of the highest levels of GDP per capita in Africa; estimates vary greatly depending on the population figures used in the calculation. The World Bank states the 2009 GDP per capita as USD 15 397 (current US dollars). When calculated on the basis of purchasing power parity with the same 690 000 population, the GDP per capita is close to USD 20 000. The country has attained this status in the wake of the oil boom. UNESCO estimated Equatorial Guinea's adult literacy rate at 93% in 2008, up from 87% in 2000; this is much higher than the average of 62.1% for sub-Saharan Africa.
Equatorial Guinea no longer receives large inflows of foreign aid. The World Bank, for instance, does not have a permanent representation in the country. Spain continues to be the major international donor, with funding of approximately EUR 12 million per year. Other donors, such as France, provide limited financial support, though their political influence is far more notable. The strategy of the African Development Bank (AfDB) in Equatorial Guinea is based on a government-Bank joint project financing mechanism with a minimum 50% of the project cost borne by the state. The strategy supports the building of national capacities with a view to economic diversification. The AfDB is currently funding a number of major projects with four outstanding loans. The most important of these is a EUR 38.9 million loan in support of the education sector for training middle-ranking and senior managerial staff and for developing technical capacity in the diversification sectors through technical and vocational training.
Equatorial Guinea ranked 117 out of 169 countries with comparable data on the 2010 United Nations Development Programme Human Development Index (HDI). The HDI is a composite index encompassing several variables related to three dimensions, including standard of living, life expectancy and knowledge and education. The HDI of sub-Saharan Africa as a region increased from 0.293 in 1980 to 0.389 in 2010, placing Equatorial Guinea above the regional average with 0.538 in 2010. The country's human development indicators are relatively strong. However, the country's relatively good ranking in the top tier of African countries is due, to a large extent, to the high level of per capita income. The most recent Household Expenditure Survey dating from 2006 showed that over 70% of the population fell below the poverty line. The planned 2011 census should be complemented by a household expenditure survey with better estimates, but the incidence of poverty is not expected to differ much from this figure. Such a high incidence of poverty, in a country with per capita income higher than some EU member countries, reflects a high degree of income inequality, which is not considered in the Human Development Index. A key concern, therefore, is to the extent to which the population benefits from the gains of the oil sector. A more equitable distribution of these gains should be a priority.
It is widely acknowledged that social-sector improvements have lagged far behind developments in the oil and construction sectors. The government is reportedly spending approximately 10% of the budget on health. Nevertheless, overall, social-sector expenditures are still under-financed, contributing only 14% of total government expenditures. It would be possible to raise this to reach 20% of the budget to finance expenditures on primary education and health, in line with the 1995 Copenhagen Social Summit 2020 initiative. Additional expenditures to finance necessary investments in secondary and tertiary social needs (e.g. university education), in line with the priorities to boost human capital and training, would also be possible.
Health and sanitation indicators are improving from a very low base but measuring with precision the progress towards the MDGs is a challenging task because of data deficits and the controversy about the population census. The country seems on track to achieve the MDGs of universal primary education, reducing child mortality, improving maternal health, and combating HIV/AIDS, malaria and other diseases. However, Equatorial Guinea is not on course to achieve the MDGs of ensuring environmental sustainability and promoting gender equality and empowering women. There is insufficient information on tracking the MDGs for developing a global partnership for development and eradicating extreme poverty and hunger.
The infant mortality rate (the probability of a child born in a specific year dying before reaching the age of one) was 90 per 1 000 in 2008, much lower than the figure of 120 per 1 000 in 1990, but still among the highest rates in the world. Similarly, the under-5 mortality rate decreased from 198 per 1 000 in 1990 to 147 in 2008. The decrease in these mortality rates has been achieved despite the reduced coverage of immunisation of children against measles, a leading cause of death among children. The immunisation rate for measles dropped from 88% in 1990 to 51% in 2009 but these figures are likely to be affected by population estimates. The maternal mortality rate was 1 000 per 100 000 in 1990 and it has come down to 280 in 2008, still remarkably high but improving.
The incidence of tuberculosis has increased to 117 per 1 000 000 in 2009; while the incidence of HIV/AIDS has increased from 1% in 1990 to close to 5% in 2008. Reliable HIV and blood-testing facilities in the country remain one of the most important challenges for the health system. According to UNAIDS, the use of antiretroviral treatments is increasing thanks to international finance. The proportion of the population with access to improved sanitation has languished at 51% since 1990 both in rural and urban areas and the proportion with access to improved water sources has also stagnated at 43%. During 2010, the oil company Marathon continued to finance a malaria-fighting scheme that has contributed to a 70% to 80% reduction in mortality rates since 2003. Infrastructure projects that are about to be completed, such as the provision of sanitation in Malabo, should have a positive impact on the incidence of diseases such as typhoid fever and malaria. Indicators suggest that some education elements also appear to have improved over recent years. Notably, total primary school enrolment increased from 69% in 2002 to 89.5% in 2008. UNESCO estimates there are 28 pupils per teacher in primary education in 200. The anecdotal evidence gathered suggests that this might be an overestimation.
The country attracts a large number of immigrants from other African countries. Most of them come from neighbouring countries but recent years have witnessed the creation of important communities of immigrants from the east of Africa, mostly Ethiopia. The presence of workers from the Philippines, the United States and the United Kingdom is important in the oil sector. Given the small population of Equatorial Guinea and the low human resource capital base, the government is currently reviewing immigration laws with a view to attracting skilled foreign labour and discouraging unskilled labour. Urbanisation has been proceeding at a high rate, because of the oil boom and the relative neglect of rural economic activity.