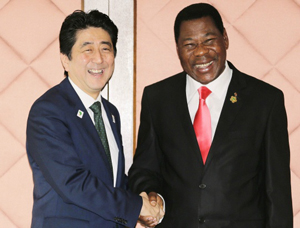 Japan unveiled a new five-year aid package for Africaon Saturday worth up to 3.2 trillion yen in government and private-sector assistance, vowing to help the resource-rich continent improve security so that more Japanese companies can do business there.
Prime Minister Shinzo Abe announced the plan that includes 1.4 trillion yen in official development assistance as a three-day international conference on African development started in Yokohama, throwing his support behind the continent's efforts to boost growth and raise its status as a business and investment partner.
"What Africa needs is private investment and a partnership between the public and private sectors to capitalize on it," Abe said at the opening session of the fifth Tokyo International Conference on African Development.
The Japanese leader said that developing human resources, promoting universal health coverage and nurturing agriculture — areas where Japan has strengths — will be instrumental in fostering growth in Africa.
The aid package also includes extending about 650 billion yen in loans to help build up basic infrastructure and places priority on capacity building in the continent by helping to train 30,000 Africans so they can get jobs over the five years.
Japan will also establish a new program, called the African Business Education Initiative for Youth, or ABE initiative, to nurture young people in Africa to work as a bridge between their countries and Japan. A total of 1,000 African students will have opportunities to study and become interns in Japan.
As food scarcity is one of the challenges facing Africa, the prime minister said Japan will help the continent make the transition from agriculture that "enables the farmer to eat" to agriculture that "enables the farmer to earn money."
The conference comes as Japan shifts toward treating Africa not just as an aid recipient but as an economic and investment partner, with the continent expected to show continued and robust growth.
For Japanese companies, however, security has been one of the barriers to operating in Africa and the prime minister made this point clear.
"We need your cooperation to ensure the safety of Japanese companies doing business in Africa," Abe said in a session on business. "We ask you to eliminate excessive regulations, develop necessary legal frameworks, and enable the free flow of people and goods," he added.
The latest aid package is also reflective of Japan's determination to catch up with China, an Asian powerhouse running ahead of Japan in the amount of aid and investment in Africa.
Ethiopian Prime Minister Hailemariam Desalegn said Japan should step up its presence in Africa.
"It is ironic the Japanese involvement in the area of investment in the continent is a far cry from the kind of huge presence it should by now have achieved compared to relative newcomers currently active in Africa," Desalegn, jointly chairing the conference with Abe, said at the opening session.
Leaders and delegates from more than 50 African nations are set to discuss how to ensure quality growth in the continent at TICAD, and adopt a declaration and action plans on their last day of talks Monday.
International organizations such as the United Nations, the World Bank and for the first time the African Union co-organized the latest TICAD, which has been held every five years since its inception in 1993.
In his opening address, U.N. Secretary General Ban Ki Moon said peace, security and development should be tackled together because of their linkage.
"African countries and people are building their future. We can reach out to support them," the world body's chief said.
With the deadline for the Millennium Development Goals — eight goals to tackle issues such as poverty, hunger and HIV to be fulfilled globally — approaching in 2015, Ban said, "We will make sure Africa's priorities are fully reflected in our post-2015 development agenda."
A series of sessions are scheduled to discuss trade and investment, gender equality, the empowerment of women and peace building. What lies ahead for Africa after the MDGs will be one of the major agenda items.