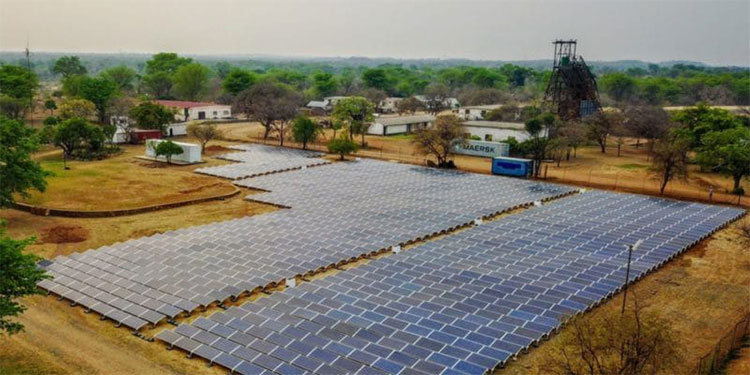 A solar project offer has been submitted by Power Ventures to the Zimbabwe Energy Regulatory Authority (ZERA). The independent power producer eyeing to build a 107 MW photovoltaic solar power plant in Hwange in western Zimbabwe.
A solar power plant may appear in Hwange, a town in northern Matabeleland province in western Zimbabwe. This will rely on the decision of the Zimbabwe Energy Regulatory Authority (ZERA). The service recently received a solar project proposal from Power ventures. The Individual power producer (IPP) wants to construct a 107 MW photovoltaic solar power plant in the Chidome Ward district.
Power Ventures also suggest connecting this solar power plant with an 88 kV transmission line 75 km long. The electricity would be fed into the grid from a 32 kV substation that already exists in the Hwange district. The energy develops by the Hwange solar power plant would be sold out to Zimbabwe Electricity Transmission and Distribution Company (ZETDC), the company that uphold the public electricity service.
Power Ventures would like to commence the project directly after the opinion of the ZERA. The company also signifies that the project should generate 1,000 jobs by the end of 2019. It grows hope in a country where people are subjected to hours of power cuts every day. In reality, the state-owned company ZETDC is forced to rationalise electricity consumption because of a deficit in production. The country has several coal-fired power plants, but they "are in urgent need of renovation".
The ZETDC have assurance mainly on the Kariba hydroelectric power plant, which gives about 750 MW of electricity from the Zambezi River. The difficulty is that the river's flow is reducing deeply with the shortage that has been plaguing southern and eastern Africa for some time. But Zimbabwe has a viable alternative: solar energy. And PPIs are already hammering on Zimbabwe's doors to exploit this unlimited source of electricity.