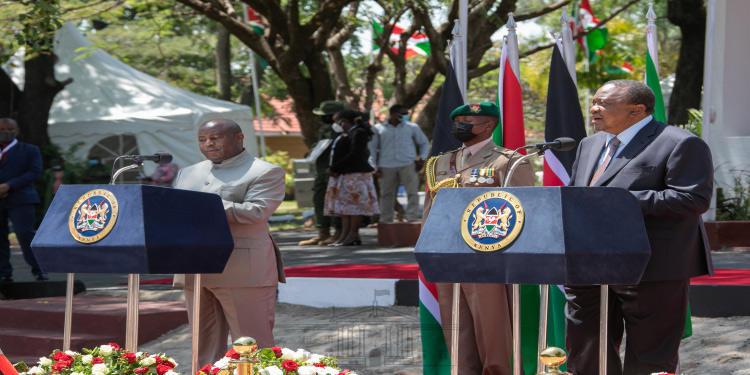 Burundian President Evariste Ndayishimiye on 31st May 2021 began a 2 day state visit to Kenya, focusing on strengthening "fraternal" relations between the 2 countries, an official statement said.
A statement from State House said the Burundian leader and First Lady Angeline Ndayubaha on 1st June 2021 joint President Uhuru Kenyatta in Kisumu, western Kenya, and took part in Madaraka Day celebrations as Guest of Honour.
Ndayishimiye has made 4 foreign trips already, including a state visit to Equatorial Guinea, a visit to Tanzania and to Uganda, just 8 months after he took over.
A dispatch seen by The EastAfrican said Kenya and Burundi used this occasion to discuss "strategic cooperation", starting with their membership in the East African Community.
Various bilateral agreements, which have been pending for the last 5 years, are also likely to be signed.
"Burundi remains an important trade partner to Kenya with the balance of trade in favour of Kenya. There is vast untapped potential to expand trade relations between our 2 countries in terms of both value and volume," a dispatch on the visit says, indicating the intent to seek more markets for Kenyan investors in Burundi.
Kenyan firms such as Diamond Trust Bank, KCB and Jubilee Insurance already operate in the Burundi country, and Kenya Airways has routine flights to Bujumbura.
Officials also suggested they will need Burundi on board as Kenya seeks a wider network to the Democratic Republic of Congo.
Sources on 28th may 2021 said that Kenya and Burundi will also discuss issues of wildlife conservation, including routine relocation of endangered species under a mutually agreeable programme.