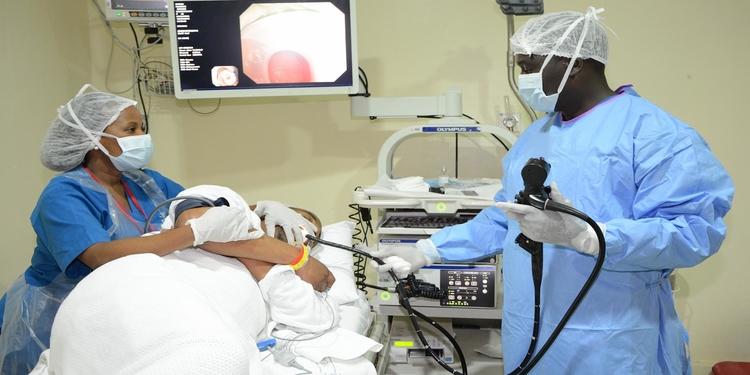 Health and Social Care Secretary and Kenya's Cabinet Secretary for Labour Cooperation, Simon Chelugi, and President Uhuru Kenyatta signed the Memorandum of Understanding at Royal College of Physicians, builds on UK healthcare assistance provided to Kenya during the pandemic, including genomic sequencing of positive COVID-19 tests and 817,000 COVID-19 vaccine doses donated.
The MoU commits to a procedure through which competent but jobless Kenyan nurses would be actively recruited to work in the NHS in the future years, assisting the government in meeting its manifesto pledge of 50,000 extra nurses by 2024 and supporting the training of Kenya's healthcare professionals.
For more than 30 years, the United Kingdom has collaborated with Kenya to enhance healthcare results in both nations, with the Kenya Medical Research Institute (KEMRI) and the Wellcome Trust collaborating to develop a health research program. This collaboration has grown over the years and has proven critical throughout the COVID-19 pandemic, with KEMRI and Oxford University collaborating to trial the AstraZeneca vaccine with backing from the UK government.
The President's travel to the UK fulfills President Kenyatta's and Prime Minister Boris Johnson's January 2020 agreement on a Strategic Partnership between the two countries.
The United Kingdom is collaborating with Kenya to discover, track, and respond to novel COVID-19 variations, saving lives both at home and throughout the world. As part of the UK's New Variant Assessment Platform (NVAP), KEMRI collaborates with Public Health England. Reagents and equipment to boost in-country genome sequencing, technical guidance, assistance with comprehending biological data, and training are all part of the assistance.
As the Prime Minister stated yesterday, the UK would provide 817,000 vaccine doses to Kenya to aid in the fight against the epidemic, with the first doses being already distributed. This is part of a shipment to COVAX of 9 million Oxford-AstraZeneca vaccinations.
COVAX, a worldwide initiative to distribute COVID-19 vaccinations to impoverished countries, has given 138 million doses to over 136 countries and territories, thanks to over £500 million in UK government support. COVAX plans to distribute 1.8 billion COVID-19 vaccinations worldwide by early 2022.
In addition, a collaboration between Kenyatta University Teaching Research and Referral Hospital and the University of Manchester/Christie NHS Foundation Trust would promote cancer prevention and care in Kenya. Kenya would be promoted as an East African regional centre for cancer care, in part.