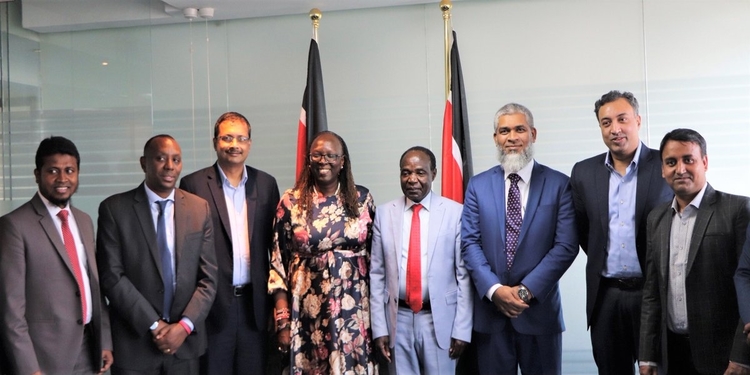 Square Pharmaceuticals Ltd has constructed a state of the art Pharmaceutical Plant at EPZ Athi River in Machakos County that is expected to be commissioned in July this year.
The Cabinet Secretary (CS) for Industrialization, Trade and Enterprise Development Betty Maina said the plant which is the largest in East and Central Africa, is in its final stages of getting operational licenses from the Pharmacy and Poisons Board.
"The plant is expected to get the licences this week to enable it start full commercial operations for production of malaria and diabetes drugs, and other essential medicines," said Ms. Maina.
She said when the plant commences full operations, Kenya would benefit from additional 500 direct jobs from the plant, lower costs of essential medicine and increased foreign exchange earnings from exports of drugs.
The CS was speaking during a meeting with visiting senior officials from Bangladesh at her office at NSSF building to discuss the commissioning of the Square Pharmaceuticals plant.
Ms. Maina who lauded the company for investing over US$ 75 million in the country encouraged the firm to inform other potential investors from Bangladesh to take advantage of Kenya's conducive business environment and set up manufacturing facilities in Kenya.
During the meeting, it was agreed that Bangladesh would share with Kenya its extensive knowledge in pharmaceutical production, as well as set the required requisite skills.
"We agreed that Bangladesh will also enter into collaboration with Kenyan Universities on the training of industrial pharmacists in addition to the clinical pharmacists that Kenya is currently training to assist in management of modern pharmaceutical plants like the one set up by Square Pharmaceuticals in Kenya," said the CS.
The meeting was attended by the Principal Secretary for Industrialization Amb. Kirimi Kaberia, Director of Industries in-charge of Private Sector Development Stephen Odua, and the visiting officials from Square Pharmaceuticals, Bangladesh who included the Executive Director Finance and Strategy Muhammad Zahangir Alam, General Manager International Marketing Prosenjit Chakroborty and General Manager Human Resource Fakhrul Hasan.