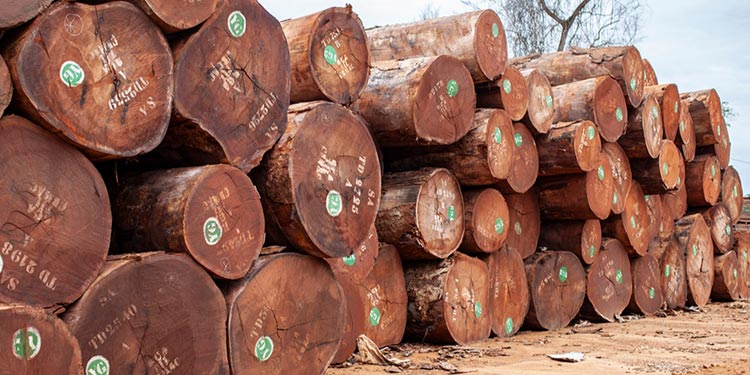 Producers in the region are reporting strong demand for padouk, okoume, ovangkol, and even gheombi, a timber that was not widely available until a year ago. Gheombi is a material used to make doors. The wood features black streaks, which appear to be valued in the Chinese market.
As a result of the interruption in beech supply caused by Russia's invasion of Ukraine, buyers for European markets are expressing increased interest in African timbers, particularly woods that may be substituted for beech.
The supply of hardwoods from conventional European sources has grown even more difficult since Russia's invasion of Ukraine, prompting importers to turn to tropical items. According to producers, demand from European purchasers is higher than typical at the start of the European holiday season.
In other developments, Vietnam's imports of logs and sawnwood from Cameroon surged compared to the same time in 2021, with imports of sawnwood in particular reaching 70,000 cu.m at a value of USD 31.92 million, a 72 percent rise in volume and a 74% increase in value.
While Vietnam's imports of tropical timber have increased, there has been a slowing in demand for the Chinese market, where supplies have reportedly grown.
A national timber tracking system poses a concern to the Cameroon timber sector.
Cameroon's second generation 'Computerised Forest Information Management System' (Sigif2), launched at the beginning of 2022 and funded by the German government and the European Union (EU), has failed to deliver, putting Cameroon's international commerce in wood products at danger.
Cameroonian producers are unable to meet system requirements and are experiencing major extra expenditures. As a result, some speculate that the country's export performance may decline.
The creation of Sigif2 has caused considerable conflicts between Cameroon's Ministry of Forestry, the European Union, German authorities, and KfW. Attempts to reform the system were mostly unproductive, to the point that the system did not fulfil the standards of the European Union Timber Regulation (EUTR).
In a statement made on March 7, the Minister of Forests and Wildlife, Jules Doret Ndongo, stated that Sigif2 is having serious setback updating data owing to access issues and the instability of the internet network on which the system is dependent.
Interim procedures were put in place to attempt to keep exports flowing, but without EUTR recognition, manufacturers are correct to wonder what the benefits of Sigif2 are for them or Cameroon.