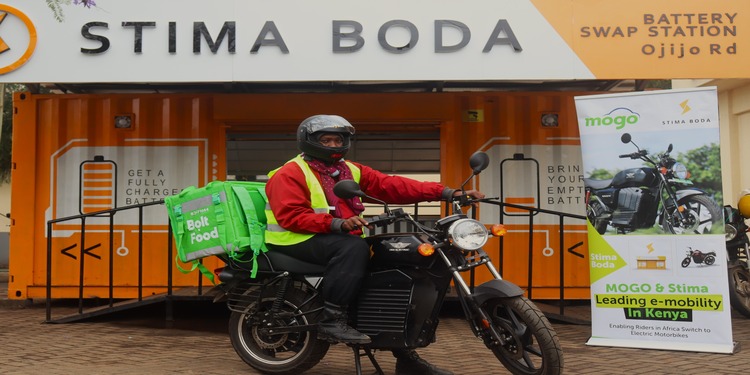 The motorbike industry is presently Kenya's largest vehicle category. The number of bikes registered in 2021 was more than 1.5 times that of the previous year! This is significant increase during the last six years. Motorcycle taxi riders, the country's largest user category, are continually facing escalating operations and maintenance expenses of internal combustion engine bikes, leaving them with virtually little in terms of wages and savings.
Electric bikes have the ability to lower these expenses, increasing revenues and savings for motorcycle industry participants. Kenya's motorbike sector is primed for electrification.
The motorbike industry is gaining traction among entrepreneurs and investors in the tech, automotive, and finance industries. Over 15 firms are already looking at the energy-as-a-service side (battery swapping companies) as well as motorbike assembly in Kenya. STIMA is one of the leaders. STIMA is a battery swapping technology firm that aims to build scalable battery changing infrastructure for electric bikes. According to STIMA, there are approximately 20 million two-wheelers on African roads now. STIMA and OneElectric, India's largest electric motorbike manufacturer, have announced a collaboration to deploy 3,000 rechargeable electric bikes in Kenya in the first phase. The combined enterprise will then spread to other African countries.
STIMA has now entered into a new relationship with Kenyan auto financier Mogo, a subsidiary of Eleving Group, and ride-hailing startup Bolt to enhance the widespread adoption of electric motorbikes in Kenya. STIMA will offer motorcycles and battery swapping infrastructure to the cooperation, while Mogo, which currently has over 50,000 active lease-to-own agreements with motorcycle riders, will assist lease-to-own plans for STIMA-powered electric motorbike riders. With the aim of switching its food delivery fleet to electric, Bolt will market electric bikes to the 4,000 riders who now use its meal delivery app. Through lease-to-own asset financing, battery swapping technology, and ride hailing, the collaboration is positioned to provide the Kenyan market an all-inclusive transportation solution.
STIMA's co-founder and CEO, Jason Gras, says that the alliance with Mogo and Bolt helps the organisation achieve its lofty objective of promoting e-mobility throughout Kenya and East Africa. As a result of this agreement, there will be more electric bikes on the road thanks to STIMA's battery swapping technology, Mogo's tier one asset finance, and Bolt's history in ride hailing.
The CEO of Eleving Group, Modestas Sudnius, adds, "Electric vehicles will be the norm in the future. As part of the Group's medium- and long-term strategies, the initial steps in teaching individuals about climate-friendly and sustainable actions must be done right now. With cutting-edge goods and beneficial loans, we wish to be present in Kenya. For us, this initiative adds to achieving our ESG strategic goals, where we have committed to growing the number of emission-free vehicles in our portfolio and lowering the carbon footprint that results. This initiative will save our clients money on gasoline and maintenance expenditures. In the long term, it will benefit society by improving environmental features of cities like as air quality and noise levels."
"Bolt Food is happy to be collaborating with STIMA on this initiative as it reinforces our commitment to helping couriers earn more and supporting sustainable ways of transportation. Couriers will be able to save money by purchasing electric motorbike bikes through STIMA since they are less expensive in terms of consumption and maintenance. "They will have fast access to financing through Mogo, which alleviates the obstacle faced by the initial cost of acquiring the e-bikes," stated Edgar K Kitur, Country Manager, Bolt Food.
Kenya has a great chance to dominate the continent in the electric motorbike business. Kenya's system is mostly supported by renewable energy sources such as geothermal, wind, hydro, and some utility-scale solar. Those electric motorcycles will be powered by ultra-clean electricity.