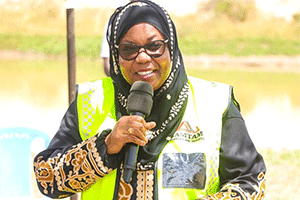 In the Silaloni region of Samburu Sub County, Kwale Governor Fatuma Achani announced recently the Shauri Moyo multifunctional dam project. The construction of the dam would cost Sh45.7 million.The Shauri Moyo megadam project
According to Governor Achani, will deliver water to Silaloni and the surrounding region. The dam's storage capacity would be 151,000 cubic metres.
According to her, the new multimillion shilling water project is among a number of dam projects being funded by the Kwale County government. The Shauri Moyo multipurpose dam is projected to resolve the residents' water shortage problem.
Other currently underway dam projects also include Makamini dam and the Mwache multipurpose dam. The Nyalani Dam will also benefit 22,000 people in Kinango Sub County. The Nyalani Dam construction project was recently completed.
Intended outcomes of the Shauri Moyo multipurpose dam, She also stated that the project would specifically contribute to improving the standard of living of the neighboring communities.
The county governor also commented that the present drought influencing the large percentage of Kwale has compounded an already dire situation. It has hindered many people to have access to safe and sufficient clean water.
She mentioned that the county is already constructing water dams to reduce the impact of the drought. It is also expanding and fixing boreholes all throughout region.Achani stated that the devolved government plans to construct at least one massive dam in each of the six sub-counties in order to irrigate enormous land masses for agricultural use.In addition, she said that the coastal county's semi-arid and dry populations should have a greater standard of living. By constructing dams, this may be done to provide a constant water supply for home and agricultural purposes.